BLACK FRIDAY
We have prepared discounts of up to 70% for all categories. 
Show all discounts
Antiparasitic collars
Parasites bothering you and your pet? Do not worry and do not be afraid to fight with the problem! We offer solutions in the form of antiparasitic collars that protect the cat and dog against parasites, which nobody likes. Do not let your pet suffer. Antiparasitic collars repel fleas, lice, mosquitoes, ticks and other insects. Efficacy collars has a very long duration, so their purchase worthwhile. In addition, they can be applied to puppies and kittens. Antiparasitic collars are completely safe.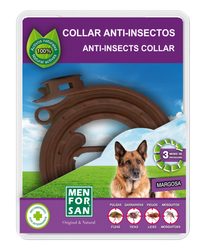 In stock > 10 pcs

07. 12. at Yours
Natural brand Menforsan collar for dogs that repels insects (fleas, lice, mosquitoes and ticks) and provides repellent…
6 €