30 day
Money Back Guarantee
Petkit One Touch travel bottle for dogs 300ml
Do you often take your dog on trips? Do you have to travel long distances together, such as trips to other cities? This, of course, is a sign that you care about your dog and try not to leave it alone. In this case, you know well that sometimes traveling with a dog is difficult, and that carrying a bowl and pouring water into it is possible only at petrol stations, which is not comfortable. For such cases, the Americans have developed a unique bottle for traveling Petit One Touch, which completely destroys all difficulties. It is easy to hide the water bottle in a backpack or bag, and if necessary, allow the dog to drink, and it's no matter where you are, in the car, in nature or in the city. It's very simple, isn't it?
Basic advantages and specificity
Modern design adapted to the needs of your dog: the Petit One Touch drinker is not only elegant, but also very practical. You do not have to worry that it would be a less comfortable for the dog than original bowl. 
The special design of the drinker is ideal for a dog's nose.
Capacity is 300 ml: the water bottle is small, light, and perfectly fits in a backpack or handbag.
Especially suitable for travel: it can be safely closed, so do not be afraid that the water will accidentally get out. 
Easy to use: place the blue cap on the left side, by clicking on it the water will start to flow out, if you place the cap on the right side, the water will remain inside the bottle.
High-quality and unique material: the material contains extracts of coconut peel. Thanks to them, the bottles absorb the smell and act antibacterial. In addition, it has a much better taste.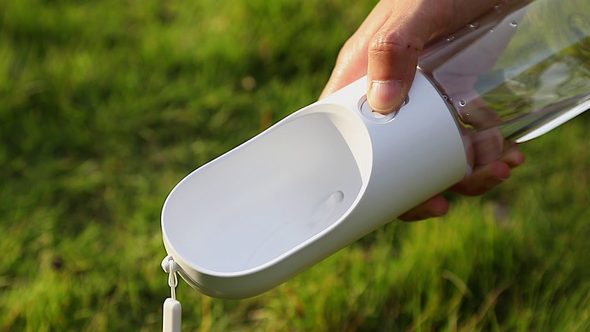 High quality and simple operation
It's definitely not good to let a dog drink just from any source. But how to transfer water? Petkit One Touch is easy to hold even in one hand, is lightweight, and you can easily put it in a backpack or handbag. Thanks to the hermetic lid, you don't have to worry about water leaking (place the button on the right side).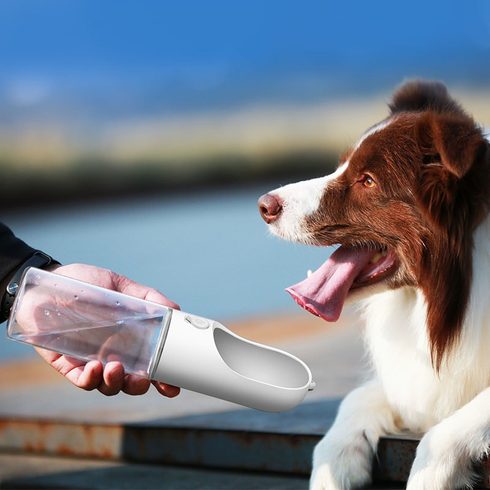 Antibacterial material
It is only possible to avoid the formation of bacteria by closing the bottle. American developers have chosen BioCleanAct™ as the main material from which the bottle is made. The material prevents the growth of bacteria that get into the bottle, as it works with other products.