30 day
Money Back Guarantee
Brit Care Dog Endurance 12kg
Hypoallergenic duck and rice feed for active dogs and dogs in stress. We carefully select high quality ingredients such as lamb, salmon, herring, venison, duck and rabbit meat for Brit Care feed production. Selection of raw materials ensures high digestibility of feed and reduces the risk of food intolerance. Brit Care Recipe contains functional ingredients to support the immune system, overall condition, and the prevention of serious illnesses.

Support of intestinal microflora 
Fructo-oligosaccharides are nutrition for positive microflora in the intestine and contribute to its health.
Intestine and liver protection, odour control 
Yucca extracts protect the intestine and liver from ammonia, and protect haemoglobin from degradation.
High content of proteins and fats 
Provides a suffi cient amount of energy for the highest energy requirements.
High utilisation of proteins 
Balanced amino acid profile (ideal protein) allows the high utilisation of the digested proteins for body tissues.
Anti-aging factor - free radical protection 
High levels of vitamin E and selenium in the organic form ensure a strong antioxidant complex, protecting the cell membranes from free radicals.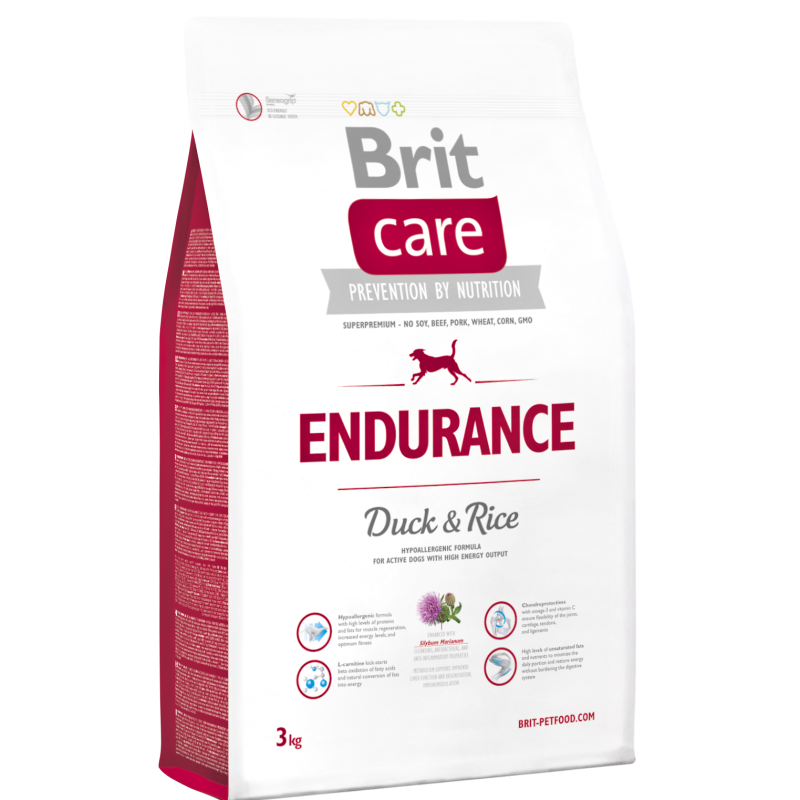 Composition:
duck meat meal (46%), rice (30%), chicken fat (preserved with tocopherols), dried apples, natural flavors, salmon oil (2%), brewer's yeast, hydrolyzed crustacean shells (a source of glucosamine, 320 mg/kg), cartilage extract (a source of chondroitin, 190 mg/kg), mannanoligosaccharides (180 mg/kg), herbs and fruits (rosemary, cloves, citrus, curcuma, 180 mg/kg), fructooligosaccharides (120 mg/kg), yucca schidigera (120 mg/kg), inulin (110 mg/kg), milk thistle (90 mg/kg).
Analytical ingredients:
crude protein 32%, fat content 22%, moisture 10%, crude ash 7.0%, crude fiber 2.0%, calcium 1.8%, phosphorus 1.3%.
Nutritional composition:
vitamin A (E672) 23,000 IU, vitamin D3 (E671) 1,800 IU, vitamin E (α-tocopherol) (3a700) 600 mg, vitamin C (E300) 300 mg, L-carnitine 200 mg, choline chloride 700 mg, biotin 0.75 mg, vitamin B1 1.2 mg, vitamin B2 4.5 mg, niacinamide (3a315) 15 mg, calcium panthothenate 12 mg, vitamin B6 (3a831) 1.2 mg, folic acid (3a316) 0.6 mg, vitamin B12 0.05 mg, zinc (E6) 100 mg, iron (E1) 90 mg, manganese (E5) 45 mg, iodine (E2) 0.8 mg, copper (E4) 18 mg, selenium (3b8.10) 0.3 mg.

Video