30 day
Money Back Guarantee
Brit Care Dog Grain-free Adult Large Breed Salmon & Potato 3kg
Brit Care Grain-free Adult Large Salmon & Potato is a special recipe developed to satisfy nutritional requirements of adult large dogs (over 25kg). Properly balanced, highly digestible formula influencing the health and well being of your pet.

Prevention against food allergies and intolerances
A recipe with a unique source of proteins and energy – salmon and potatoes - and with no cereals content for sensitive digestion.
Anti-aging factor - free radical protection
High levels of vitamin E and selenium in the organic form ensure a strong antioxidant complex, protecting the cell membranes from free radicals.
Immunity support & health protection
MOS (Mannan-oligosaccharides) maintain intestinal health, reduce pathogenic microflora in the intestines.
Support of intestinal microflora
Fructo-oligosaccharides are nutrition for positive microflora in the intestine and contribute to its health.
Intestine and liver protection, odour control
​Yucca extracts protect the intestine and liver from ammonia, and protect haemoglobin from degradation.
Advantages:
great and complete meal ensuring energy for the whole day

low glicemic index facilitates maintenance of proper blood sugar level and reduces risk of overweight

special source of proteins and energy ensures exceptional nutrition even for sensitive dogs

grain-free formula based on delicate salmon and potatoes what makes it very tasty and easy digestible

salmon contains of all essential aminoacids in optimal doses what makes them digestible better than proteins

high content of Omega-3 (DHA and EPA) which play important role in improvement of condition of skin and hair, development of cognitive abilities and maintenance of healthy cardiovascular system

addition of dried fruits and herbs ensures adequate dose of vitamins and antioxidants which significantly influence on immunity

glucosamine and chondroitin beneficially improve on flexibility of joints improving the whole body condition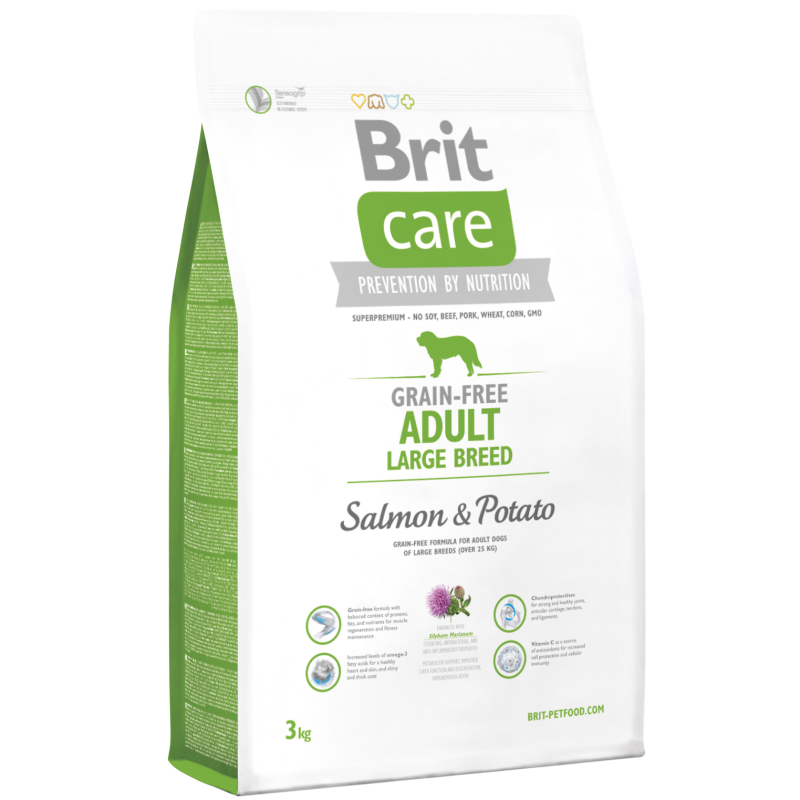 Composition:
salmon dried (34%), potatoes (34%), salmon protein (10%), chicken fat (preserved with tocopherols), dried apples, natural flavors, salmon oil (2%), brewer´s yeast, hydrolyzed crustacean shells (a source of glucosamine, 260 mg/kg), cartilage extract (a source of chondroitin, 160 mg/kg), mannanoligosaccharides (150 mg/kg), herbs & fruits (rosemary, cloves, citrus, curcuma, 150 mg/kg), fructo-oligosaccharides (100 mg/kg), yucca schidigera (100 mg/kg), inulin (90 mg/kg), milk thistle (75 mg/kg).
Analytical ingredients:
crude protein 25%, fat content 14%, moisture 10%, crude ash 7.0%, crude fiber 2.8%, calcium 1.2%, phosphorus 1.0%.
Nutritional composition:
vitamin A (E672) 20,000 IU, vitamin D3 (E671) 1,500 IU, vitamin E (α-tocopherol) (3a700) 500 mg, vitamin C (E300) 200 mg, choline chloride 600 mg, biotin 0.6 mg, vitamin B1 1 mg, vitamin B2 4 mg, niacinamide (3a315) 12 mg, calcium panthothenate 10 mg, vitamin B6 (3a831) 1 mg, folic acid (3a316) 0.5 mg, vitamin B12 0.04 mg, zinc (E6) 80 mg, iron (E1) 70 mg, manganese (E5) 35 mg, iodine (E2) 0.65 mg, copper (E4) 15 mg, selenium (3b8.10) 0.25 mg.

Video