30 day
Money Back Guarantee
Brit Care Dog Grain-free Puppy Salmon & Potato 3kg
Raw chocolate salmon recipes for puppies and young dogs (from 3 months up to 2 years) of large breeds (over 25 kg). It was developed to protect the organism from the negative environmental effects. We carefully select high quality ingredients such as lamb, salmon, herring, venison, duck and rabbit meat for Brit Care feed production. Selection of raw materials ensures high digestibility of feed and reduces the risk of food intolerance. Brit Care Recipe contains functional ingredients to support the immune system, overall condition, and the prevention of serious illnesses.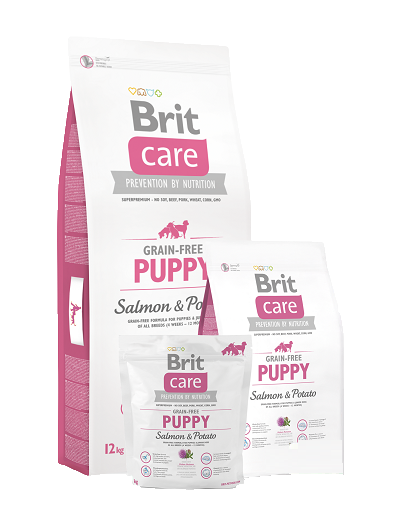 No more cereals!
The long-term use of certain types of proteins in dog nutrition has caused an increase in food allergies. These include cereals such as wheat, corn and soy, and common types of meat such as chicken, beef and pork. By eliminating typical allergens from nutrition, you save your dog's organism and reduce the risk of eating intolerances. Cereal-free food, including rice, is the next step in improving the nutritional properties of the feed and ensuring the long-term fitness and health of the individual. The main benefit of grain-free feed is the low glycemic index, which reduces the risk of one of the most common civilization diseases - obesity.
Proper skeleton growth and joint protection 
Balanced Ca-P ratio, high content of glucosamin and chondroitin
High utilisation of proteins 
Balanced amino acid profile (ideal protein) allows the high utilisation of the digested proteins for body tissues 
Prevention against food allergies and intolerances
A recipe with a unique source of proteins and energy – salmon and potatoes - and with no cereals content for sensitive digestion.
Anti-aging factor - free radical protection
High levels of vitamin E and selenium in the organic form ensure a strong antioxidant complex, protecting the cell membranes from free radicals.
Immunity support & health protection
MOS (Mannan-oligosaccharides) maintain intestinal health, reduce pathogenic microflora in the intestines.
Support of intestinal microflora
Fructo-oligosaccharides are nutrition for positive microflora in the intestine and contribute to its health.
Intestine and liver protection, odour control
​Yucca extracts protect the intestine and liver from ammonia, and protect haemoglobin from degradation.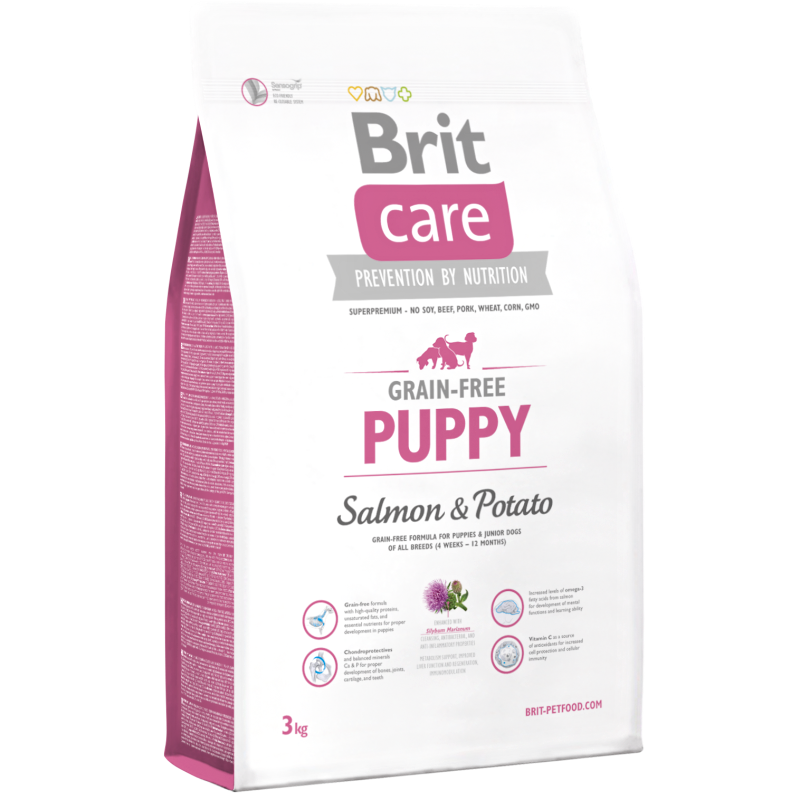 Composition:
dried salmon (35%), potatoes (28%), salmon protein (15%), chicken fat (preserved with tocopherols), salmon oil (3%), dried apples, natural flavors, brewer's yeast, hydrolyzed crustacean shells (a source of glucosamine, 320 mg/kg), cartilage extract (a source of chondroitin, 190 mg/kg), mannanoligosaccharides (180 mg/kg), herbs and fruits (rosemary, cloves, citrus, curcuma, 180 mg/kg), fructooligosaccharides (120 mg/kg), yucca schidigera (120 mg/kg), inulin (110 mg/kg), milk thistle (90 mg/kg).
Analytical ingredients:
crude protein 30%, fat content 18%, moisture 10%, crude ash 7.7%, crude fiber 2.5%, calcium 1.3%, phosphorus 1.0%.
Nutritional composition:
vitamin A (E672) 23,000 IU, vitamin D3 (E671) 1,800 IU, vitamin E (α-tocopherol) (3a700) 600 mg, vitamin C (E300) 300 mg, choline chloride 700 mg, biotin 0.75 mg, vitamin B1 1.2 mg, vitamin B2 4.5 mg, niacinamide (3a315) 15 mg, calcium panthothenate 12 mg, vitamin B6 (3a831) 1.2 mg, folic acid (3a316) 0.6 mg, vitamin B12 0.05 mg, zinc (E6) 100 mg, iron (E1) 90 mg, manganese (E5) 45 mg, iodine (E2) 0.8 mg, copper (E4) 18 mg, selenium (3b8.10) 0.3 mg.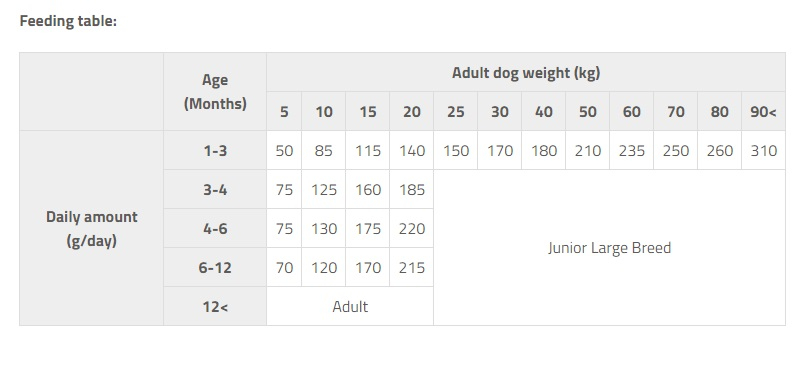 Video