30 day
Money Back Guarantee
Brit Care Dog Junior Large Breed Lamb & Rice 12kg
BritCare Junior Large Breed is made from lamb and rice. It has hypoallergenic formula for junior dogs that are between 3 months old - 2 years of large breeds which is over 25 KG, this formula contains with balanced content of proteins, fats and minerals for healthy development during rapid growth.It has prebiotic mannan/ fructooligosaccharides with inulin for immunity support and modulation of intestinal microflora. Besides that, it also have chondroprotectives and balanced minerals Ca and P for proper development of bones, joints, cartilage, and teeth. BritCare Junior Large Breed also has increased levels of omega-3 fatty acids from salmon oil for development of mental function and learning ability. It is encanted with Silybum Marianum, it helps in cleansing, antibacterial, and anti-inflammatory properties. This product has metabolism support, it also can helps tp improve liver functions and regeneration.

Immunity support & health protection 
MOS (Mannan-oligosaccharides) maintain intestinal health, reduce pathogenic microflora in the intestines.
Quality of the coat and skin 
Balanced ratio of omega-3 a omega-6 fatty acids with the organic form of zinc and copper helps to keep the skin healthy and improve the quality of the coat.
Intestine and liver protection, odour control
Yucca extracts protect the intestine and liver from ammonia, and protect haemoglobin from degradation.
Anti-aging factor - free radical protection
High levels of vitamin E and selenium in the organic form ensure a strong antioxidant complex, protecting the cell membranes from free radicals.
Support of intestinal microflora
Fructo-oligosaccharides are nutrition for positive microflora in the intestine and contribute to its health.
Composition: lamb meat meal (42%), rice (36%), chicken fat (preserved with tocopherols), dried apples, salmon oil (3%), natural flavors, brewer's yeast, hydrolyzed crustacean shells (a source of glucosamine, 320 mg/kg), cartilage extract (a source of chondroitin, 190 mg/kg), mannanoligosaccharides (180 mg/kg), herbs and fruits (rosemary, cloves, citrus, curcuma, 180 mg/kg), fructooligosaccharides (120 mg/kg), yucca schidigera (120 mg/kg), inulin (110 mg/kg), milk thistle (90 mg/kg).
Analytical ingredients: crude protein 28%, fat content 14%, moisture 10%, crude ash 7.5%, crude fiber 2.5%, calcium 1.7%, phosphorus 1.3%.
Nutritional composition: vitamin A (E672) 23,000 IU, vitamin D3 (E671) 1,800 IU, vitamin E (α-tocopherol) (3a700) 600 mg, vitamin C (E300) 300 mg, choline chloride 700 mg, biotin 0.75 mg, vitamin B1 1.2 mg, vitamin B2 4.5 mg, niacinamide (3a315) 15 mg, calcium panthothenate 12 mg, vitamin B6 (3a831) 1.2 mg, folic acid (3a316) 0.6 mg, vitamin B12 0.05 mg, zinc (E6) 100 mg, iron (E1) 90 mg, manganese (E5) 45 mg, iodine (E2) 0.8 mg, copper (E4) 18 mg, selenium (3b8.10) 0.3 mg.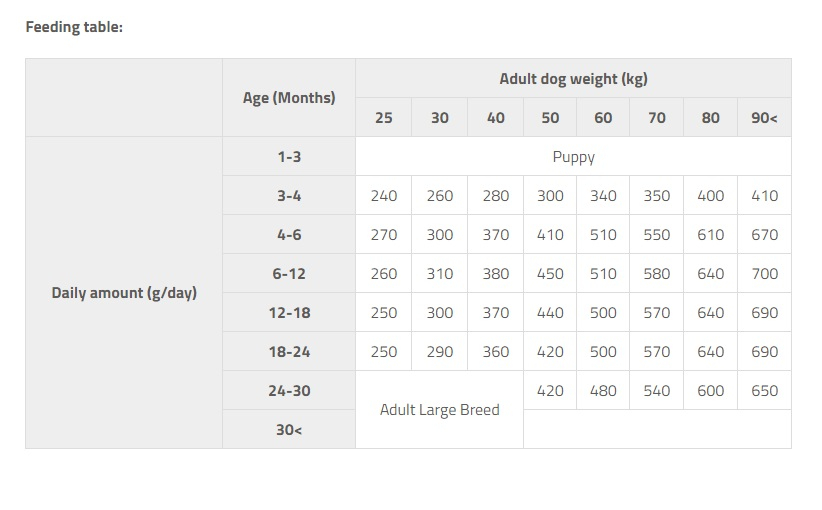 Video