30 day
Money Back Guarantee
Brit Care Dog Senior Lamb & Rice 1kg
Hypoallergenic formula for dogs with high and very high activity or for dogs in time of recovery.
Brit Care Senior All Breed -is a well-balanced, highly digestible superpremium dog food developed for the special nutritional requirements of senior dogs. The food is enriched with organic selenium and vitamin E to slow down aging, reduces the risk of obessity, minimizes potential digestion problems and helps to protect organism health.

Suitable for:
-small breed from 6 years,
- medium breed from 7 years,
- large breed from 8 years
- dogs that should lose weight
Proper function of the nervous system, anti-aging protection 
The combination vitamin E and choline chloride allows the proper functioning of the nervous system and protects the cell membranes from free radicals.
Vascular system protection 
The balanced ratio between omega-3 a omega-6 fatty acids and chelated copper content protect the vascular system from cholesterol damage.
Immunity support & health protection 
MOS (Mannan-oligosaccharides) maintain intestinal health, reduce pathogenic microflora in the intestines.
Optimal ratio between proteins and fats 
Protects against obesity, provides optimum of energy consumption.
Support of intestinal microflora 
Fructo-oligosaccharides are nutrition for positive microflora in the intestine and contribute to its health.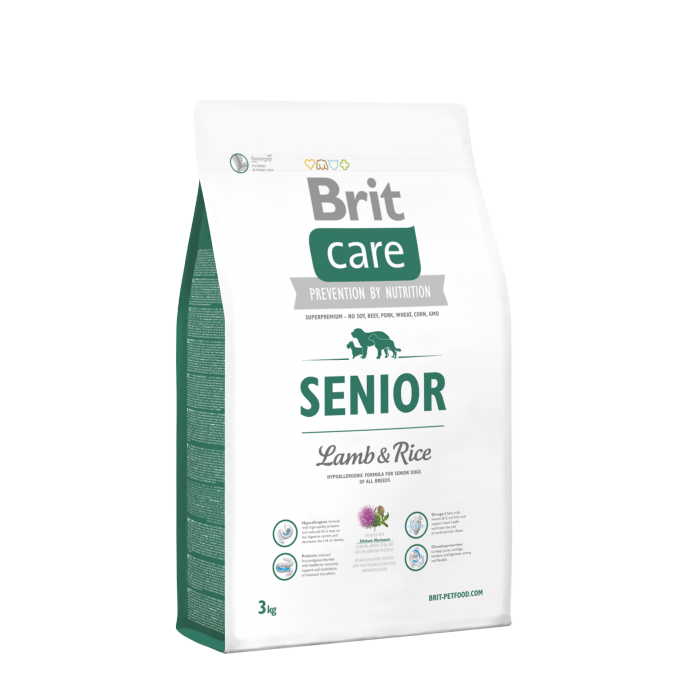 Composition:
lamb meat meal (35%), rice (35%), dried apples, chicken fat (preserved with tocopherols), dried beet pulp, natural flavors, salmon oil (2%), brewer's yeast, hydrolyzed crustacean shells (a source of glucosamine, 260 mg/kg), cartilage extract (a source of chondroitin, 160 mg/kg), mannanoligosaccharides (150 mg/kg), herbs and fruits (rosemary, cloves, citrus, curcuma, 150 mg/kg), fructooligosaccharides (100 mg/kg), yucca schidigera (100 mg/kg), inulin (90 mg/kg), milk thistle (75 mg/kg).
Analytical ingredients:
crude protein 25%, fat content 12%, moisture 10%, crude ash 7.0%, crude fiber 4.2%, calcium 1.5%, phosphorus 1.2%.
Nutritional composition:
vitamin A (E672) 20,000 IU, vitamin D3 (E671) 1,500 IU, vitamin E (α-tocopherol) (3a700) 500 mg, vitamin C (E300) 200 mg, choline chloride 600 mg, biotin 0.6 mg, vitamin B1 1 mg, vitamin B2 4 mg, niacinamide (3a315) 12 mg, calcium panthothenate 10 mg, vitamin B6 (3a831) 1 mg, folic acid (3a316) 0.5 mg, vitamin B12 0.04 mg, zinc (E6) 80 mg, iron (E1) 70 mg, manganese (E5) 35 mg, iodine (E2) 0.65 mg, copper (E4) 15 mg, selenium (3b8.10) 0.25 mg.

Video