30 day
Money Back Guarantee
USED - Fountain Eyenimal
1) Unpack
The device is only unpacked or the packaging has been damaged, that's why the product has been repackaged in non-original packaging. The device was never used.
2) Nearly new*
The product was used for demonstration in the store or was exchanged by the customer within a few days. It may not have the original packaging, maximum the product may have several light abrasions.
3) Easily used*
The device  has been used for 5-15 days, scratches from the claws are already visible on it.
4) Heavily used*
The device has been used for 15 to 40 days, there are very noticeable scratches or toothprints. The product can be after maintenance or repair.
*We sell only 100% functional goods that can be used as well as new ones. For example, waterproofing and other properties are always preserved. The warranty period for category 1 and 2 is the same as for the new goods, for categories 3 and 4 the warranty period is 12 months. The product can be changed or returned during 30 days. The device is always presented in full configuration (if have not been provided differently).
Eyenimal fountain is made of quality plastic and uses a patented free-falling stream of water that cats and dogs love. Capacity 1.5 liters helps keep drinking regime for all pets, regardless of breed size (recommended for small and tredny dogs or cats). Fountain from a reputable manufacturer Eyenimal helps keep drinking regime of your pets. Its size and design is Eyenimal suitable for all dogs regardless of their breed, running water is also fancied by cats. This fountain has a very quiet operation and offers your pet is always fresh and clean water. Many veterinarians recommend the use of fountains, because it may reduce the risk of creating a urinary sand and stones! Preferably fountains is that it has no replaceable filters as user experience usually for a shorter or longer period ceases exchange. The new design and the use of high-quality pump is almost noiseless Eyenimal fountain.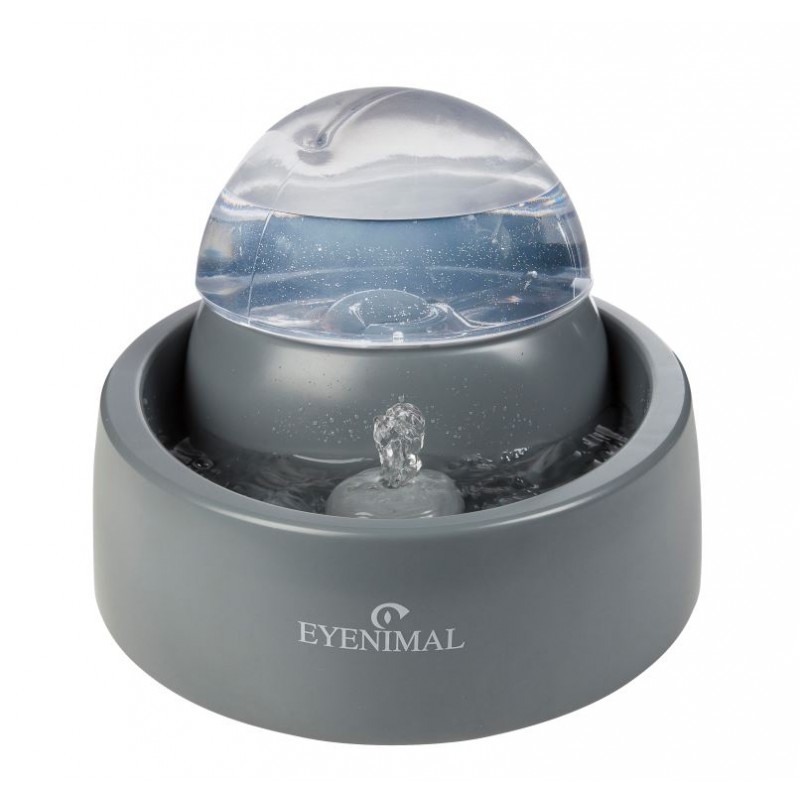 Why is fresh, running water so important?
Research has shown that one of the best ways to improve the health of the animals are drinking large quantities of clean water which fountains Drinkwell® making possible. Using patented free-falling water fountains constantly oxygenate the water. Filter charcoal removes water from any odor and bad taste and thus encourages pet to drink large amounts of clean, fresh water.
Basic information and characteristics:
bubbling water
Infinitely adjustable water flow
with a carbon filter for fresh clean water
ramp reduces splash of water
almost noiseless inflict pump
incorporated water reservoir, the quantity of about 1,5 liters
slip base
weak current system 12V
Benefits
Handicaps

Suitable for all dogs and cats
increased drinking regime
activated carbon purifies the water from impurities
simple wiring and maintenance
volume of water 1,5

 liters