30 day
Money Back Guarantee
Camera trap Bunaty Full HD GSM
New 2015/16. Camera trap with GSM module, support for GPRS, sending photos by email or mobile phone! Great quality antenna with a tilting hinge for GSM signal reception. Where else camera traps already losing signal camera trap bunaty works! In addition, the antenna due to the positioning of the club can zklopit giving you the opportunity to better camera trap mask! Best GSM thieves and animals without compromise! Made for Czech and Slovak Republic, Czech complete menu and fine Czech manual !! The only known to us  camera trap market combining great camouflage with a minimum glossy surfaces on the front camera traps. Camera trap precisely focus the laser pointer while everything camera trap will capture you see on the large screen at the front camera traps! All camera traps Acorn, Scoutguard, Keepguard camera traps and other brands have a display on the back of camera trap, so you have to focus on camera trap mounting guess! Night photo quality is equal to or greater than the more expensive models from other brands, and keeps completely invisible night shooting! Sensitive motion sensor!
Technical Features
Body of device made in camouflage with a minimum of glossy surfaces
Integrated GSM module with support for GPRS
Control via the color display on the front camera traps
CMOS sensor 12MP according to the Color
Lens F / NO = 3.1 mm
FOV (Field of View) = 52 °
IR-IR distance up to 15 meters
Memory card to SD16GB
Image resolution up to 12MP according to settings
Video resolution up to 1080P FULL HD
PIR adjustable sensitivity (High / Normal / Low)
Shutter speed 0.8s
Video length to 60 seconds
Stamp on the photo - date + time
Supply 8 × AA
The dimensions of 132 mm x 88 mm x 65 mm
WHY camera trap Bunaty?
1.Great masking and with perfect insulation against adverse weather
Minimum glossy areas on the front camera traps. Invisible illumination optical camouflage into smaller parts and therefore reduces glare in daylight. Camera trap Bunaty simply masks.Quality  processing of all plastic parts with a front cover in 3D!
2. Big LCD logically placed on the front of camera traps, after lifting the front cover!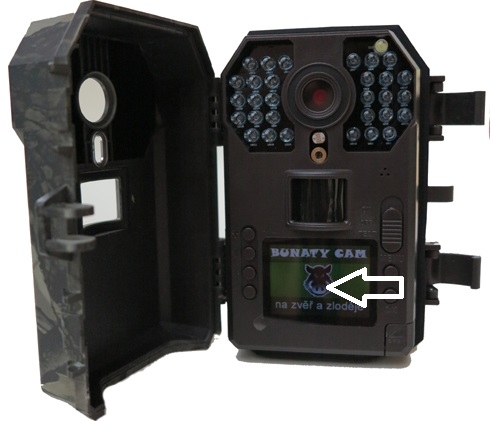 3. Integrated Laser Pointer, which will again make camera trap focus on the desired target.
If requested by the customer to install camera trap to higher places, it is very difficult to focus properly camera trap , but camera traps Bunaty simply turn on the laser pointer, you're so focused camera trap in an instant, everything can still easily verify on the big screen! It is very difficult, the market will look for camera traps with laser pointer and a front display that displays the current scan size! No camera traps Acorn, ScoutGuard, Keepguard, UO vision does not allow that!
4. Opening and closing is at camera trap Bunaty easy!
Camera trap Bunaty switch has large and clear placement under the front cover. Cover and replace the batteries camera traps simply switch is in the desired position!
5. Replacing the battery is at Camera trap Bunaty really easy!
Camera trap do not have to dismantle, only replace the batteries front cover, and press a button to eject the tray with batteries. Then vymněníte for new and sliding the tray back, do not take off camera trap example from the tree!
6.Battery status at camera trap Bunaty is unlike other camera traps easy!
Simply replace the batteries front cover and the large display shows the battery status. For camera traps Acorn (outside the old model of 6210 was invisible slabím flash) due to the location of the display on the back camera trap must always be removed for the battery state!
7.Great quality nighttime photographs that exceeds even more expensive camera traps.
8.VIDEO in FullHD quality sound recordings!
It is very difficult to look you in the market camera traps at this price level with recording video and audio at full HD quality! Camera trap Bunaty can combine both pictures and video recording, ie., When motion is detected camera trap according to your settings takes a picture, video or photo with video.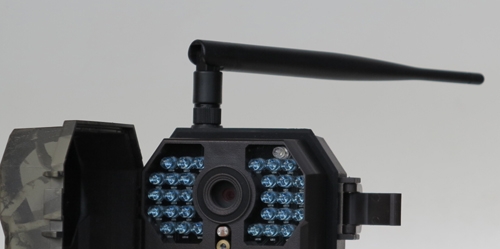 9.Quality multizone motion sensor reacts to heat with a maximum range!
10.Camera trap Bunaty is made for Czech and Slovak Republic, which guarantees quality and fast service! Complete menu and fine Czech Czech manual is commonplace.
Camera trap Bunaty has additional features like a timer where you can set from when to when to be active cametrap. Time Lapse function is ideal for monitoring large areas or any other time-lapse, when camera trap also at regular intervals without recording the move!
Benefits
Handicaps

shutter speed 0,8 s
IR invisible
IR range 15 metres