30 day
Money Back Guarantee
PetSafe 100m Little Dog
The new training collar for small dogs with a range of 100 meters, uses sound and pulse for correction in 16 levels. The collar has clear button control, boost function, and water-resistant properties for submersible in 1,5 meter.  The collar is designed for training one dog.
The PetSafe electronic collar will provide all functions at a distance of 100 m, even in difficult terrain where it's easy to lost the signal.
Adjustable level of force impulse is an ideal way to find the optimal level, which will your dog react. PetSafe for small dogs offers 16 levels.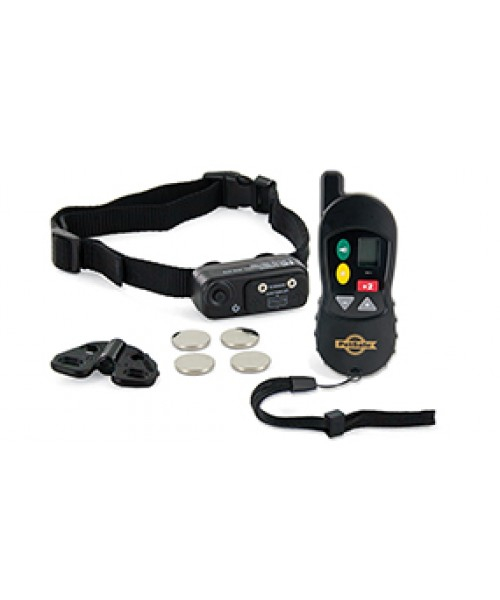 In difficult situations, when the dog is running headlong after prey or after another dog, you can use the Boost function. This is a jump increase pulse (in this case by 2 levels) that will allows you to stop the dog. At the moment of the instinctive reflex, the dog's sensitivity are muted, so your dog does not respond to the usual command or the usual level of correction.
By the functions, the collar PetSafe Little Dog is suitable for small dogs weighing up to 18 kg. Proper training will definitely help you to correct commands or protect yourself in risky situations.
More information about training you can find here: https://www.elektro-obojky.cz/admin/magazin/tema-9/clanek-911

Range

With the PetSafe collar, you can train your dog at a distance of 100 meters even in difficult conditions.

Correction type

The training collar uses sound and pulse correction. The pulse can be set in 16 levels.

Battery and charging

Receiver and transmitter works on 2 pcs of 3-Volt Lithium CR2032 battery, battery PetSafe - RFA-35-11.

Waterproof
The receiver has waterproof characteristics for short-term submersible in 1,5 meters. The device is not suitable for re-submersible in water or training in water.

Number of dogs

The PetSafe 100m Little Dog allows you to train only one dog.

Display

The digital display on the transmitter shows the set correction intensity and battery status.

Collar lenght

 Collar length is adjustable to 56 cm.
Benefits
Handicaps

2 types of correction: sound and pulse

adjustable pulse level at 16 levels

the boost function

led indicator of battery status

waterproof

digital display

the ability of training only 1 dog

not designed for large dog breeds