30 day
Money Back Guarantee
Reedog Smart Bowl Infra automatic bowl for dogs and cats
Reedog Smart Bowl is a unique modern automatic bowl for dogs and cats with an infrared sensor for automatic opening. When a dog or cat gets close, the bowl automatically opens in 1 second and closes again after your pet has left. The bowl is made of a durable, easy-to-clean material. The device has a clear display with a battery capacity indicator. The Reedog bowl will always provide fresh, sweet-smelling food and clean water.
Main functions:
Modern design

- the bowl is not only very functional, but also perfectly fits into the interior of any home.

Automatic opening

- the infrared sensor provides automatic opening in 1 second, and closing after eating.

For all pets

- the bowl is suitable for cats and dogs of small and medium breeds.

High-quality material

- the bowl is made of ABS plastic, resistant to scratches and dirt. The plastic cover is made of transparent polycarbonate. The built-in feed bowl is made of stainless steel for more comfortable operation.

LCD display

- the display shows the state of charge.

The bowl can hold

- water - 350 ml, feed (both dry and wet) - 160 g.

The battery life

- up to 5 days.

Charging time

- up to 3 hours.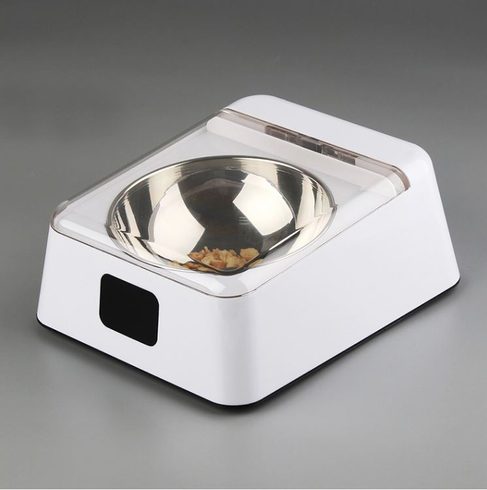 How the Smart Bowl works? 
The Smart Bowl opens with a built-in infrared sensor. Once your pet approaches the bowl, it will automatically open in 1 second and offers fresh and flavorful food or clean water. Once your dog/cat leaves the infrared sensor area, the bowl is automatically closed. This function keeps the food dry, fresh and protected from dust and insects.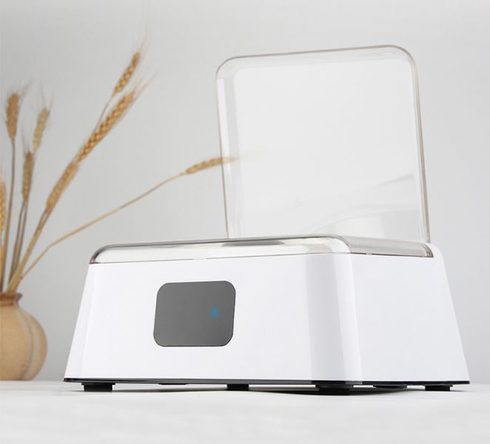 For cats and small dogs!
The Reedog Smart Bowl is suitable for cats and small or medium breeds of dogs. The size of the bowl is 21 x 17 x 9.2 cm, weight-570 g. Thanks to its size, the bowl is suitable for traveling. The bowl will provid fresh and flavorful food for your pet.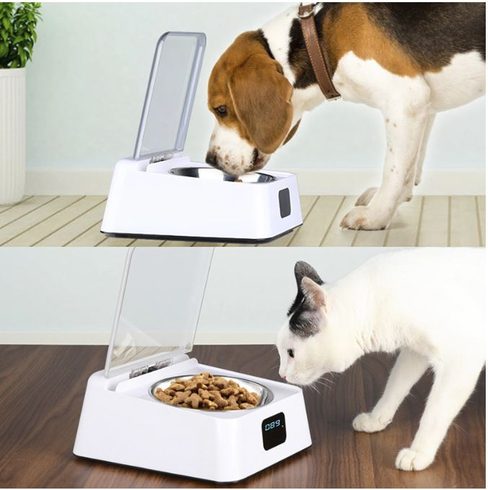 Quality material!
The smart bowl is made from high quality, water-resistant material that will keep food fresh. The built-in bowl is made of stainless steel, which is easy to wash and can hold 350 ml of water or 160 g of feed.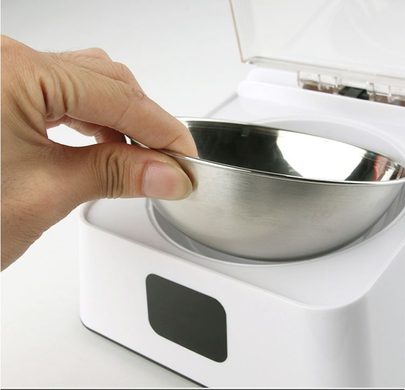 Long battery life! 
The bowl has a 2000 mAh battery. Full charge in 3 hours, working time up to 5 days. The bowl is charged using the included charging cable. A clear LCD display with large numbers shows the battery status and the need to charge the bowl again.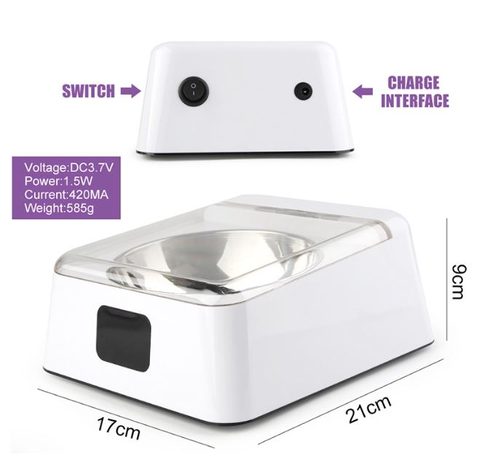 Benefits
Handicaps

the bowl is suitable for water and food

keeps food fresh and flavorful

modern design

dustproof and dirt resistant design 

for all pets

automatic opening

easy service 

clear LCD display