30 day
Money Back Guarantee
Dogtra Pathfinder- GPS & training collar
Dogtra pathfinder turns the localisation into an intelligence! This is a highly professional GPS locator with an integrated collar for professional, difficult and specialised dog training. It is a clever, sophisticated and well constructed reliable device. With Dogtra Pathfinder you can train even in difficult terrain and in the woods. You can communicate with up to 21 dogs. Each of them can be trained with the impulses on the scale from 0 to 100 and you can choose between continuous and momentary impulse.
Dogtra Pathfinder could be considered a synonym for "professional dog training". Maximize your experience, dig deeply into the work and become a professional! Forget all the worries, Dogtra pathfinder makes the best out of your smartphone. The connection of the smartphone with the GPS technology is stored in the Maps, Compass and Training. With doctra, you don't need to pay and download anything additional. Dogtra will eliminate many obstacles that come with an orientation in a new interface. Pathfinder uses Google maps for the GPS localisation. Quick, professional, smart. With one app you can track up to 21 dogs, share the location with other hunters, store and show the history of the route, create virtual fences with a notification when violated. Communicate smart. Work professionally. Data update takes 2 seconds, zoom is strongly supported allows you to work and walk quickly. Feature compass will let you know how far and in which direction your dogs are. The fence can be miles wide. 
The collar is an amazing training device, too. 3 types of correction, 100 levels of correction, quick charging and full waterproofness are all making the device suitable for outdoor training. Fantastically easy-to-use!
How does the Dogtra Pathfinder work?
The collar has GPS antenna, that receives satellite signals in order to locate the dog.  
The collar and radio communication unit (GPS connector) are able to communicate within the distance up to 15 km. 
GPS connector is connected to your smartphone via bluetooth.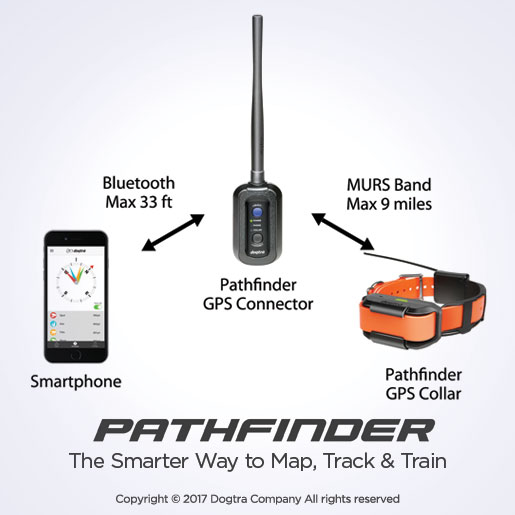 Specification and principle of the functions
Set for the dog location consists of three parts: 
GPS collar with electronics (GPS module and radio transmitter)
radio communication units that connect GPS collar with smartphone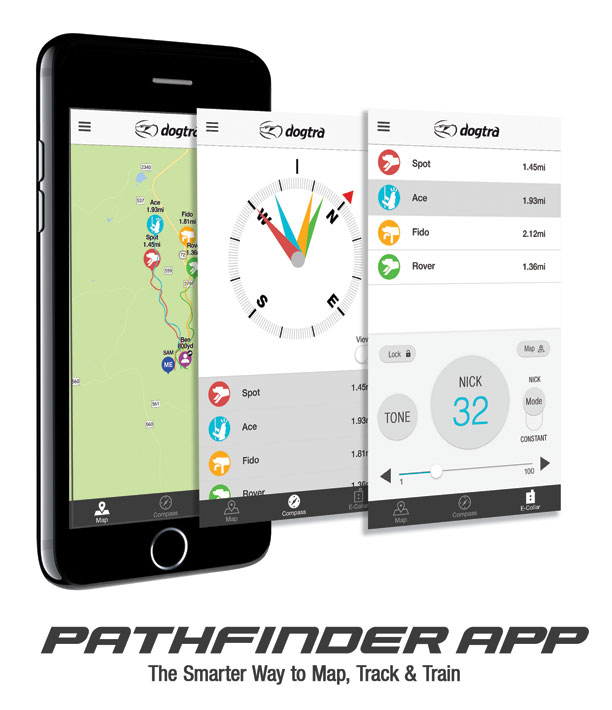 Quality and simplicity bring enjoyment and accessibility
Radio connection of your smartphone with GPS collar is set thanks to GPS connector with system transmitter - receiver, without the need of using GSM network. Forget the rules such as SIM card, fees for the data transfer etc. Dogtra is not depending on GSM - if the data is not available, simply download the offline map. You then easily watch the chosen map (regular, satellite or terrain Google map) where you will see your dog and your own location. The app will also show you the direction and distance from the watched dog. You can also add the dogs of your friends and watch those, too. The other type of viewing, "non map", is a form of GPS compass and is ideal for an active plan, training in the woods or in a flat and empty area. In such areas, it is more helpful to know how far and in which direction from you the dog is, than to see where exactly it is. GPS collar is resilient and fully waterproof.
Smartphone requirements for iOS:
iOS 8.1 and up
iPhone 5, 5C, 5S, 6, 6+, 6S, 6S+, 7, 7+
iPad generation 3 and higher
Smartphone requirements for
Android:
Android 4.3 and up
For example Samsung Galaxy S4 and up, Note 2 a up, LG G3, ...
                              
Main features
Dogtra Pathfinder provides a GPS collar technology for your smartphone together with integrated training collar. It turns the localisation into the intelligence. You can use the GPS locator by itself only, too. For flexible and effective way of tracking and training of your dog (dogs). With Dogtra Pathfinder you are suddenly capable of professional and special training of dogs. It is without a doubt made to be used for training of the hunting and service dogs.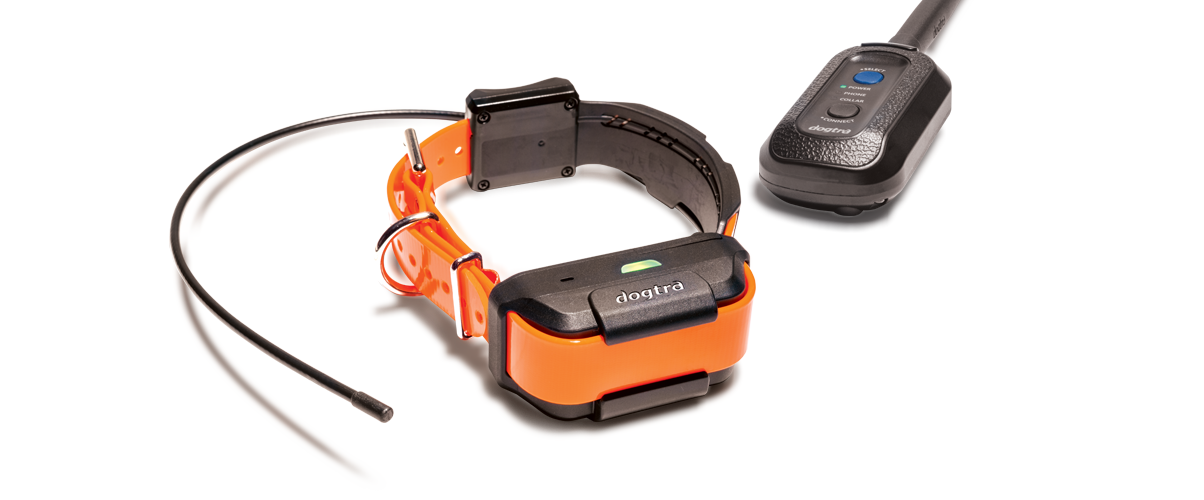 High speed of the location finding, every two seconds
Maximum range up to 15 kilometers 
Detailed satellite and regular maps
Offline working mode for using the areas that are not covered with GSM 
GPS - only option (deactivation of the training part of the collar)
Option to create a virtual fence (Geo-fence): The user can choose an area on the map and the device sends notifications when the dog violates the area, or comes back
Track up to 21 dogs or hunters
When working  in group, you can easily share and show the location of other participants.
Fully waterproof
Zoom support for detail close up in real time
Quick-charging - 3,5 hours till the full recharge
Hunting features - Pathfinder can recognise whether the dog is standing, is trying to climb up the tree or is barking. Contains 8 statuses of dog behavior.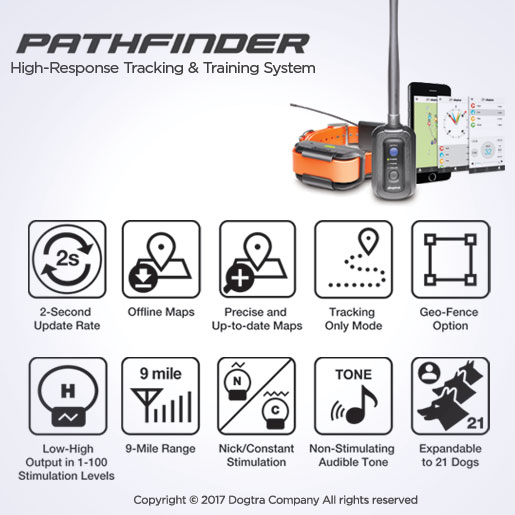 Electric training collar functions

Range of the collar
You can keep the track of your dogs for up to 15 km distance.
Type of correction 

Dogtra pathfinder offers you a correction with momentary (nick) and continuous (constant) impulse and sound signal (can be turned off). Setting withing the range from 1 to 100 is a very sensitive and accurate.
Battery and charging

For maximum efficiency Dogtra Pathfinder is equipped with quick-charge feature. It takes around 2 - 3 hours. Contains exchangeable lithium polymer batteries. After charging, it will stay up to 1 month in stand by mode.

Waterproofness
Dogtra Pathfinder is made to be used in difficult conditions. You can expect complete waterproofness both on receiver and transmitter. 
Number of dogs

Dogtra Pathfinder will not loose any of its qualities or speed when used for training up to 21 dogs!

Length of the collar

Dogtra device comes with very resilient, firm plastic collar in 10 colourful collar in 10 colour variations. It fits the perimeter of the neck 33 - 58 cm.

Weight and size
Remote control: 9,5 cm height antenna included, 3,5 cm height without antenna, 2,9 cm width and 1,1 cm depth.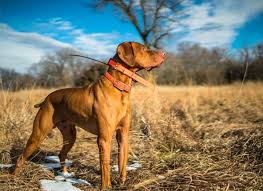 Other features:
Fully waterproof collar
Quick-charge battery (re-charged within 3 hours)
The set is customizable for up to 21 dogs
The user can watch the location of other dogs and their owners thanks to sharing, if they own the same type of GPS collar.
Dogtra Pathfinder Smartphone App:
Map view:
Map display shows you where your dog is and what id does. You also see your own location.  
If you share your tracking information with other users, you can see their location on the map and the location of other dogs, too. 
If there's GSM data available (cellular data) or WiFi, you can use Google Maps, satellite or terrain view including. For further areas, where there are no GSM data available, you can download offline maps, for free. 

 
                                                         
View of the distance and direction (Compass)
View of the compass allows you to see how far and which direction from you your dog is. 
If you share the tracking information with other users, Compass will show you the distance and the direction of those too.

                                                                  

 
Electric training collar   
For training or calling your dog back to you, you can use the display of the electric training collar. 
You can activate short (nick) or long (constant) stimulation or sound. 
Level of stimulation can be set for each dog individually. 

Benefits:
range up to 15 km
training functions
hunting functions
price
Handicaps:
need to be managed via smartphone
Package content:
GPS collar
GPS connector
collar - 58 cm
battery charge
electrode
electrode tightening tool
test lamp
drawstring on the neck
belt buckle
manual
Benefits
Handicaps

range up to 15 km
training functions
hunting functions
price

need to be managed via smartphone