30 day
Money Back Guarantee
SportDog TEK 2.0 Tracking
SportDog TEK 2.0 Tracking & Training is a revolutionary and the only solution in the world that combines quality GPS for dogs and precision electronic training collar. New SportDog TEK 2.0 tires of watching modern technology mean that it is reliable and accurate than ever. Enjoy complete control over your dog or even up to 21 psi (simply by adding a replacement receiver TEK 2.0). Tek 2.0 connection offers premium features, along with the localization of your dog using the preinstalled, and full-color 1: 100,000 map system. Simply put, no other system will not allow tracking dog with such certainty. Using this device, you can watch all kinds of terrain and a range of up to 16 km. SportDog hardly 2.0 features advanced technology HopTek ™, which combines GPS + GLONASS navigation (satellites). Talkie controls the movement of the dog in the field using an electronic compass and current velocity until number 21 collars. Each component is fully waterproof and submersible DryTek technology using up to 7.5 meters. Using TEK 2.0, you will always have an accurate overview of the dog and rugged terrain, thanks to topographic maps at a scale of 1: 100,000, which at no additional charge, you can always upgrade. TEK 2.0 also provides a warranty period of 3 years.
Main features:
The compact control devices - radio offers instant recording of the point where the dog is and the current movement speed up to 21 dogs at the same time to a distance of 16 km.
Topographic maps accurately record the movement of the dog in ivčlenitém field using modern technology HopTek ™, which uses to locate the two satellites (GPS and GLONASS).
The unit is completely waterproof and submersible ** with the help of renowned tedchnológie DryTekTM.
With a 2-hour charge and a 24-hour operating time when updating the position every 3 seconds TEK is the market leader.
GPS location tracking up to 21 dogs - with the purchase of additional collars
Locating the dog to a distance of 16 km
Topographic maps with a scale of 1: 100,000
Customizable update frequency of the dog (at least every 3 seconds)
Viewing the current speed of the dog, direction and distance from you
Each dog (collar) is marked with its own color and the name
3 year warranty
 
Compass and waypoints
Built-in electric railways 3 axis compass
Saving up to 1000 waypoints
Saving your current position and the position of the dog as a waypoint and navigation to that point.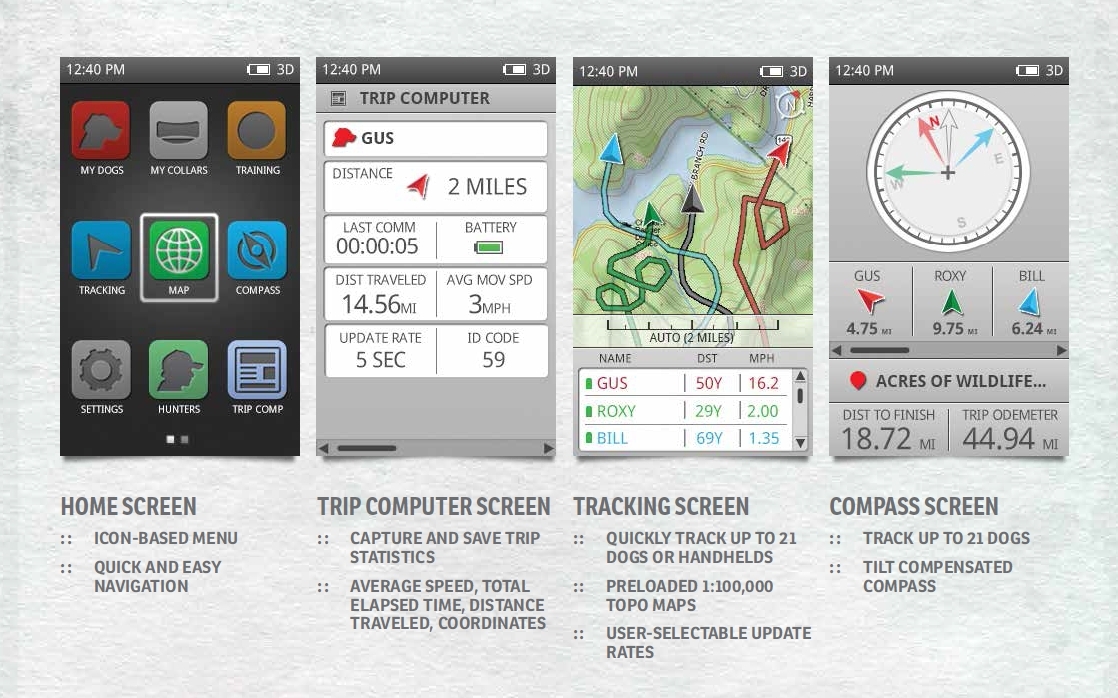 Voice feature
Indicates audible recording the activity of individual dogs in order as they are typed on the screen
Announces the names of dogs, warnings (standing, barking), direction, distance and speed of movement
Settings: off or an update every 1, 2 or 5 minutes.

Range

SportDog TEK 2.0 Tracking will help you train your dog and watch over distances up to 16 km. SportDog TEK 2.0 is specifically designed for use in the most demanding conditions (forest landscape) and not for him to loss of signal as in other types of GPS. SportDog hardly 2.0 features advanced technology HopTek ™, which combines GPS + GLONASS navigation (satellites).

Correction type

With the purchase of a training module SportDog TEK 2.0 Training will have a training collar and GPS. The training module has a correction notification sound, vibration and electrostatic impulse which can be set in 99-level display. The system offers three modes adjustment stimulation - short pulse, long pulse and automatically increasing.

Battery and charging
Vysílačka u SportDog TEK 2.0 Tracking je osazena dobíjecím a vyměnitelným Lithium-Ion akumulátorem o kapacitě 4400mAh a přijímač 2000mAh. Obojek i vysílačku nabijete pomocí duální nabíječky během 2 hodin. Na jedno nabití vydrží vysílačka i přijímač v provozu až několik dní.

Waterproof

SportDog TEK 2.0 Tracking technology has DryTek, because the transmitter and receiver are completely waterproof and submersible up to 7.5 meters. SportDog TEK 1.0 Tracking is an ideal choice for training dogs in water or extreme conditions (forest, mud).
Number of dogs 

SportDog TEK 2.0 Tracking can be used for monitoring and training more dogs at a time, without loss of functionality. With the purchase of other collars can simply extend the training and monitoring of up to 21 dogs at a time. On the radio you can then use the buttons to switch between individual dogs.
Display 

SportDog TEK 2.0 Tracking has a quality backlight LCD display that lets you train the dog and watch both day and night. The display you have all indicators - show on the map, the distance the dog from you, his movement speed, type of correction, the number of dogs, the strength of the pulse signal strength and status indication of charge / discharge batteries etc.

Collar lenght

SportDog TEK 2.0 Tracking has a very nice quality rubberized collar. The dog does not wear his problem a good hold on the neck. Collar length is adjustable from 20 to 70 cm.

Size

Transmitter has a width of 6.5 cm, height 14 cm, depth 3.8 cm and its weight is 295 g. The receiver has a width of 9.4 cm, height 3.4 cm, depth 3.9 cm and its weight is 180 grams.
* SportDog offer self-tracking devices, but only a version of Track and Train. In order to provide a cheaper alternative without training module, we remove it from the original packaging. It can be expanded for this purpose.
Benefits
Handicaps

training a dog and localization up to 16 km
display your current location on the map
Charge receiver and transmitter
the possibility of training up to 21 dogs at a time
submersible up to 7.5 m
Backlit LCD Display
Combination of GPS and a training collar

bigger size and weight of receiver