30 day
Money Back Guarantee
Smart feeder Petkit Fresh Element Solo
The Petkit Fresh Element Solo smart dispenser dispenses 50 grams of food at a time so your pets will not overeat. Food always stays fresh in the dispenser. The dispenser has a manual feed button and mobile app. Use the free mobile app to schedule feeding times or keep track of the current amount of food in the dispenser. The dispenser is specially designed so food will never get stuck at feeding time, and your pet will never go hungry. Fresh Element is the first dispenser with a double-lock system that keeps food fresh and prevents mold forming in the dispenser. The dispenser is suitable for dry food and granules up to 12 mm in size. The dispenser is easy to clean. Back-up power supply of 5x AAA batteries (not included) ensures reliable operation in case of power failure.
Main functions
Made of ABS plastic and stainless steel bowl
Suitable for dry food (granule size up to 12 mm)
Washable and removable dispenser parts
Duo-lock system to keep food fresh
Wi-Fi and Bluetooth connection available
Plan feedings and check feed status via app
Free app for IOS and Android
No more than 10 meals per day / 50g each portion
Backup battery source
Total dispenser capacity 3 liters
Dimensions 31.6 × 29.6 × 16.6 cm
Feed container capacity of 3 liters
The capacity of the Petkit Fresh Element Solo dispenser holds 3 liters of granules at a time. With standard 50g portions, the container holds up to 10 portions, that provides your pet with food for 3-5 days. Different types of granules, with a maximum size of 12mm, can easily fit in the container. Feeding times and portion sizes can be easily scheduled via the mobile app. The Petkit Fresh Element Solo dispenser has a locking system that keeps food fresh. The feed container is made of premium ABS plastic, removable and easy to clean, the bowl is made of stainless steel.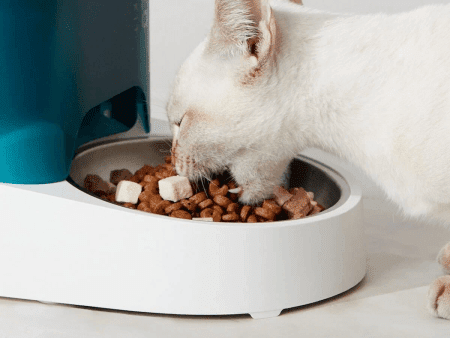 Battery backup power provides safe operation

The backup battery of Pekit Fresh Element Solo uses classic 5x AAA batteries and works safely even in the case of a power outage. This guarantees that your pets will have enough food, and the device will run without problems for several days.
You can purchase replacement batteries in our online store.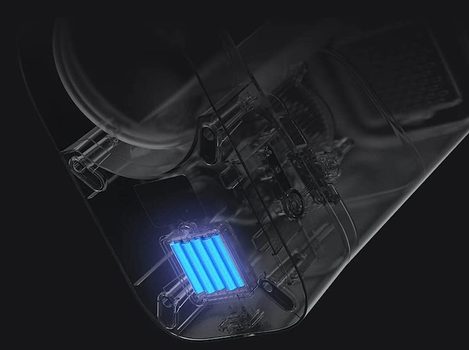 Smartphone control 
The Petkit Fresh Element Solo is Wi-Fi compatible and can be conveniently controlled via the mobile app, which is available for iOS and Android. Using the app, scheduling feeds is easy. You can schedule multiple feedings with different individual portion sizes. You can also press the feed button at any time and manually dispense a single portion of a set size. In addition, thanks to the built-in microphone with speaker, you will always know what is going on near the feeder, and if necessary, you can talk to your pet.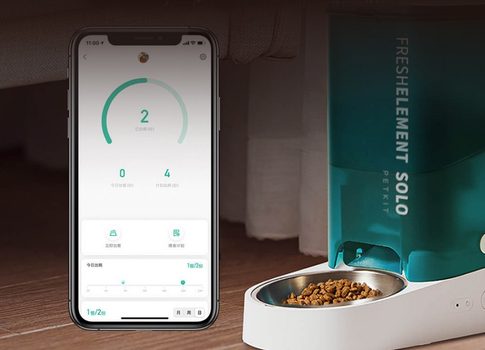 Benefits
Handicaps

Washable and removable parts
10 portions per day/ 50 g portion
Stainless steel bowl
App for Android and IOS
Capacity 3 l
Manual feeding button
High quality materials
Battery backup
Suitable for cats and small/medium dogs