30 day
Money Back Guarantee
Tesla Smart Pet Feeder Spin
Do you want your pet to have an all-day supply of food and at the same time you have control over the amount? The Tesla Smart Pet Feeder Nutri Spin automatic dispenser is for you. This smart dispenser will give your cat or small dog a supply of six servings of fresh food throughout the day - suitable for both dry and wet food. You can set it up with a button or from the smart mobile app. The built-in, easy-to-use and clear display shows the battery level or feeding schedule. The dispenser is equipped with pinch protection and a backup battery in case of power failure. 
Main functions:
Demountable design: the dispenser can be easily disassembled and completely cleaned
6-serving dispenser: You can prepare any kind of feed, capacity of the compartment: 170 ml (about 120 g)
Backup battery: backup battery, provide power even in case of power failure (4x LR14 batteries)
Display: Clear display with controls and pinch protection
Smart app: you can set the exact feeding times for each portion. Or reward your pet with a snack manually. Free app for IOS and Android.
Pinch protection: the dispenser stops rotating to protect pets from injury 
Non-slip underside: prevents the dispenser from moving on the floor 
Dispenser dimensions: 320 x 320 x 83 mm, 1134 g
Easy operation and squeak protection
The Tesla Smart Pet Feeder Nutri Spin can be controlled manually using the display on the top of the product. It is very easy to use and clear. As the name suggests, this is a smart product, not only in terms of adjustable feed or remote control, but also in terms of protecting your pet. In fact, the smart feeder system also includes a squeak guard. So your pet doesn't have to worry about any injuries.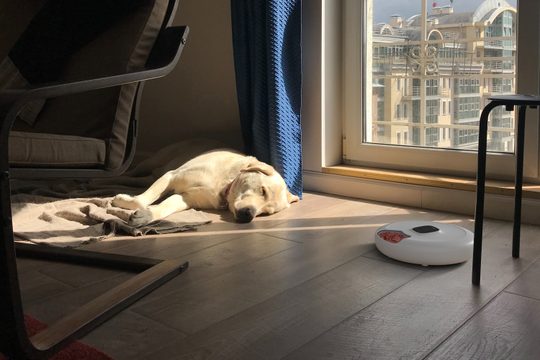 Stylish design and large tray
The design of the dispenser fits seamlessly into any home. The clever feeder is also very easy to disassemble so you won't have much work to do when cleaning it. The non-slip underside prevents the dispenser from moving. With a capacity of up to six portions, you can even plan of feeding for several days in advance. It doesn't matter what kind of food your pet likes.

Backup batteries 
There are many situations in which a power failure may occur. But not one of them will leave your pet hungry. That's because the smart feeder includes a backup battery that automatically turns on in the event the power goes out. The smart feeder will take care of your pet's full stomach in any situation.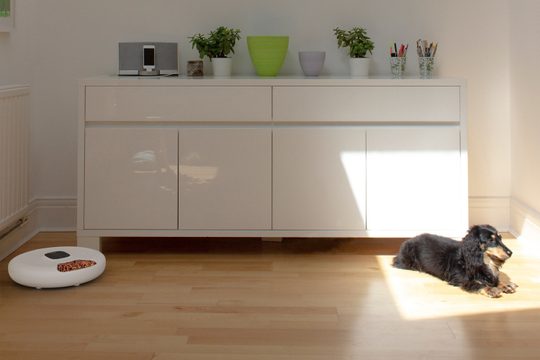 Control all products with one app
There's nothing easier than controlling your entire home from your phone. The app is also in English, so you'll understand it perfectly. Everything is simply designed to make working with the app as pleasant as possible. You can then control your smart devices from anywhere thanks to communication via the internet. It doesn't matter where you are, your household will listen to you from anywhere. The app works in EN, CZ, SK, PL, HU, SL, HR, DE, UA, RU.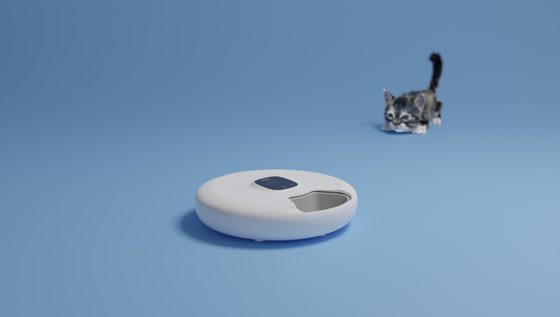 Benefits
Handicaps

Tray for 6 portions
Battery backup
Detachable design
Pinch protection
Smart app
For cats and small breed dogs
For all types of food