30 day
Money Back Guarantee
GPS collar Majlo 2 Premium
Majlo Premium locator with a lifetime license to use - you do not need to pay any fees and purchase a SIM card. GPS Majlo works on the principles of GPS, GSM a GLONASS technology. The device works independently of the coverage of individual mobile operators and choosing the network that has the best covered area. Majlo Premium is rechargeable, a full charge lasts up to 30 days of operation. The Majlo locator is resistant to shock and other natural influences and is completely waterproof. The locator has a unique sensor that in the case of impact will send a warning signal about the location. Therefore, if your pet, for example, is hit by a car, you can immediately run to help.
Majlo Premium GPS locator offers 4 modes of operation: presence in the zone, walk, sleep and tracking. The planner function allows you to set the mode for any time and on any day. Majlo also offers an SOS button in case your pet gets lost and you need to find it in the shortest time. The Majlo device tracks your pet in motion at 30-second intervals until you find it and finish tracking it.
Instructional video:
LED idikátor, který obsahuje každé zařízení Majlo, ukazuje, kdy se zařízení probudí nebo kdy je potřeba ho již nabít. Zároveň i světelný indikátor pomáhá při vypínání zařízení. Protože nechceme, aby došlo k nechtěnému vypnutí zařízení pouhým stisknutím tlačítka, Majlo používá sérii pohybů za využití LED signalizace. Díky tomu je možné obojek Majlo vypnout pouze tehdy, pokud opravdu chcete. 
Režimy sledování 
Hlídat přítomnost v zóně: je jen na Vás, jaký okruh budete hlídat. Obojek vyhodnotí rychlost pohybu a dá vědět v co nejkratší době o tom, že je něco v nepořádku. V momentálně, kdy se mazlíček začne pohybovat mimo nastavenou zónu, obojek posílá informace o jeho poloze v intervalu maximálně 5 minut. Jakmile se obojek vrátí zpět do hlídané zóny, ozve se vám a sám se přepne do původního režimu.
Procházka: vycházkový režim byl vytvořen, abyste se mohli zpětně podívat, kam jste si s mazlíčkem vyrazili. Zároveň díky zrychlené interakci je obojek Majlo schopný zareagovat rychle v případě, že se procházka zvrtne v útěk za srnkou.
Spánek: režim Spánek šetří lokátor v době, kdy víte, že máte svého mazlíčka pevně pod kontrolou. Jednou za čas zkontroluje, zda je vše v pořádku, ale převážně odpočítá a šetří se na hlídání v době, kdy to opravdu bude potřebovat.
Sledování: v tomto režimu lokátor sleduje přesný pohyb vašeho mazlíčka a aktivně vás informuje o jeho cestě stejně jako když se pohybuje mimo nastavenou zónu.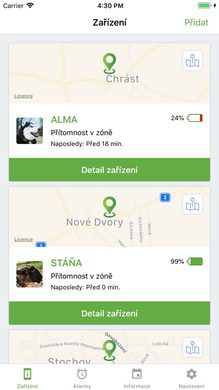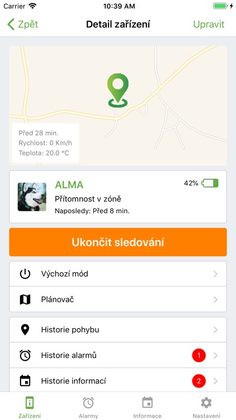 Shrnutí hlavních vlastností lokátoru
Zobrazení pozice zvířete bez omezení vzdálenosti
Vhodné pro kočky, psy a malá domácí zvířata od 4 kg
Umístíte na obojek libovolných rozměrů
Notifikace při poklesu nabití baterie 
Virtuální plot s notifikací při jeho překročení
Aplikace Majlo GPS zdarma ke stažení pro iOS a Android
Využívá technologii GPS, GSM a GLONASS
4 režimy provozu: přítomnost v zóně, procházka, spánek a sledování
Nevyžaduje SIM kartu
Nárazuvzdorný
Čidlo nárazu
Funkce Plánovač
Historie pohybu - nabízí zpětné sledování toho, kde se zařízení nacházelo v určitý čas
SOS tlačítko ztracen
Neomezená licenci bez dalších poplatků
Vývoj, výroba i zákaznická podpora přímo v České republice
Rozměry: 8,1 x 4,5 x 2 cm
PREMIUM VERZE je plně vodotěsná! 
Aplikace Majlo ke stažení: 


Veškeré ovládání obojku Majlo je intuitivní a jednoduché. Pomocí webového portálu nebo mobilní aplikace ke stažení na Google Play nebo AppStore budete mít jeho ovládání vždy po ruce.
 GPS Majlo v televizi