The PatPet T250 electronic training collar is suitable for medium and large dog breeds from 15 to 90 kg and is designed primarily for training basic commands with a range of up to 300 m. The transmitter has sound, pulse and vibration functions that are adjustable according to the sensitivity of the particular dog. The backlit display has clear, easy-to-read symbols and shows the dog's selected channel, battery level, correction setting and correction level. Both the receiver and transmitter are rechargeable using the USB cable included in the package. By adding an additional collar, it can also be used to train 3 dogs at once. The complete collar is waterproof, for basic use but not for training dogs in water.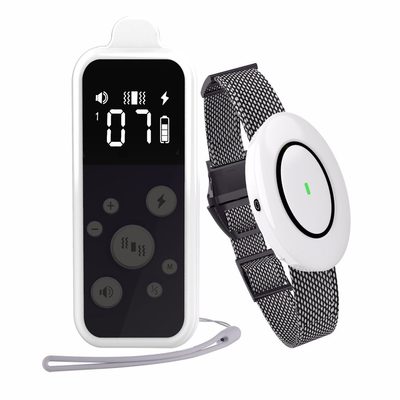 Type of correction
The Patpet T250 training collar offers 3 types of correction. You can correct your dog by sound, vibration or electrostatic pulse, which are adjustable. The intensity of the pulse and vibration is adjustable in 7 levels, the sound has 3 levels. 

Range of the collar
With the Patpet T250 training collar you can train your dog at a distance of up to 300 metres. The range is sufficient for both basic and professional training of most dogs. Patpet is the ideal choice for use in the city as well as in the woods where conditions are worse and range may be reduced.

Batteries and charging
The transmitter and receiver are equipped with a rechargeable battery. The recharge rate records 1- 2 hours to full recharge. The receiver will then remain in standby mode for 30 days, the transmitter for up to 60 days depending on use. 

Waterproofing
The Patpet T250 dog training collar is only waterproof with an IPX5 protection rating. It can only be used in light rain, however, prolonged stays in water and diving are not possible. This makes the collar an ideal choice for basic use, but not for dog training in water. The transmitter has only the most basic water protection with IPX1 rating.

Number of dogs
With the Patpet T250 electronic training collar you can supervise up to 3 dogs at the same time. Simply purchase additional receivers. Then you simply switch between dogs using the easy-to-touch buttons on the transmitter. 

Display
The training collar transmitter gives you an overview of your settings on the backlit LCD display. The display has large easy-to-read symbols and shows the selected dog channel, battery level, correction setting and correction level.

Collar length
Adjustable nylon collar is comfortable for your dog to wear and suitable for medium and large breed dogs. The collar is adjustable for a neck volume of 25 - 70 cm.

Weight and dimensions:
Transmitter: width - 5 cm; height - 12,5 cm; depth 1,5 cm and weight 75 g. Receiver: width - 4 cm; height - 7 cm; depth - 2,5 cm, weight 67 g.