Anti-bark electric collar Patpet 258S is rechargeable, energy-saving collar for small and medium breeds of dogs. Patpet258S is provided with a technology that can distinguish the dog barking from the background noise. This collar is also equipped with the 5 level scale of sensitivity to dog barking. Small and ergonomically shaped collar Patpet 258S offers educational correction by both sound and electric impulse on 7 levels of intensity.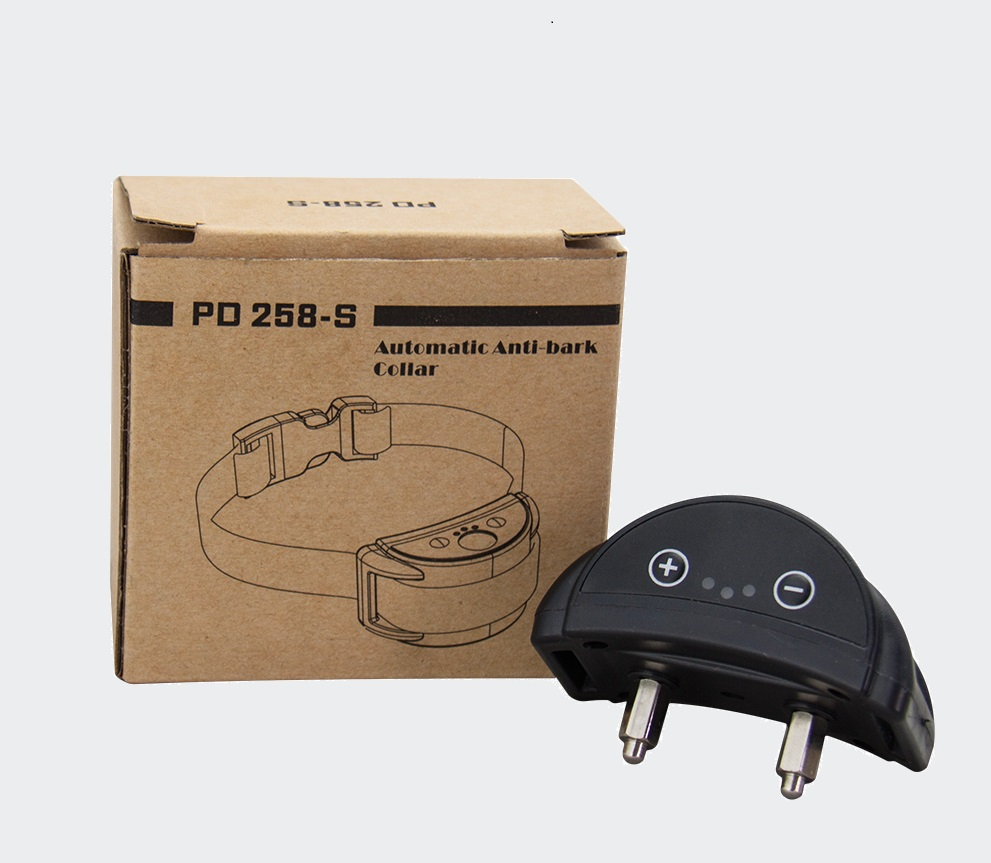 Default setting of sensitivity of the Patpet 258S is on the level 3. You control the sensitivity by the buttons + and -. The higher sensitivity of the collar you set, the quicker the collar reacts. Strength of the correction can be set within 7 levels of intensity. The collar begins the correction with sound, then continues with a longer lasting sound and then with sound + slowly rising intensity of electrostatic impulse. Patpet 258S uses built-in microprocessor to differ the barking sound from background sounds. It offers you reliability when using the correction method. The collar is recommended to be used only indoors. It is not waterproof. 

Barking detection
Anti-barking collar Patpet 258S uses sound as a detection method. It recognizes the barking and howling thanks to built-in microphone in the collar. If the dog starts to howl and bark, the speaker recognizes the sound and the collar turns on. Thanks to the detection by sound, this collar is ideal for both correction of howling and barking. The range of the sensitivity can be set on five different levels.

Correction type 
Patpet 258S is provided with the sound and impulse correction type. The strength of the impulse can be set within the range of 7 levels of the intensity. You can easily set the intensity you need. 

Collar setting
Intensity of the sound and impulse correction can be combined and the intensity of the impulse is set within the 7 levels range. After reaching 7th level of intensity of the impulse, the collar will be automatically blocked for 1 minute. 

Battery and charging
Patpet 258S can be easily re-charged via your phone or PC. Before using the collar, check the collar for parameters before the first use: 100-240 V~50/60HZ IN and 5V 1000 mA (or 300mA/500 mA)for OUT.
Waterproofness

Anti Bark collar Patpet 258S is not waterproof. It is therefore recommend to be used indoors only. 

Breed
Patpet 258S is light-weight and ergonomically shaped. The collar can be set for the neck perimeter from 6 to 60 cm. It is comfortable for small and medium breeds of dogs.

Collar length

Patpet 258S comes with a sturdy and quality collar made of nylon. The collar is comfortable to wear. The length can be set within 6 to 60 cm.
Weight and size

 Anti-bark collar Patpet 258S is very light weight (only around 50 g) and the dimensions are 6,6 cm x 3 cm x 3,5 cm (width, height, depth).