The Reedog S2 anti-bark collar has three types of corrections with the possibility of combination and intensity adjustment: sound only, vibration only, sound + vibration, or sound + vibration + pulse. The bark sensitivity can be adjusted in five levels so you can determine what bark intensity is beyond your tolerance, the adjustable sensitivity will adapt the collar easily for all sizes of dogs. The Reedog RS is waterproof, so feel free to use the collar even in slightly rainy weather. However, the collar cannot withstand immersion, so never use it in water. The Reedog S2 has a large backlit display that is easy to read and offers simple operation with 2 buttons on the front of the collar. The collar is rechargeable using a magnetic USB charger and will last up to 15 days in function on a full charge.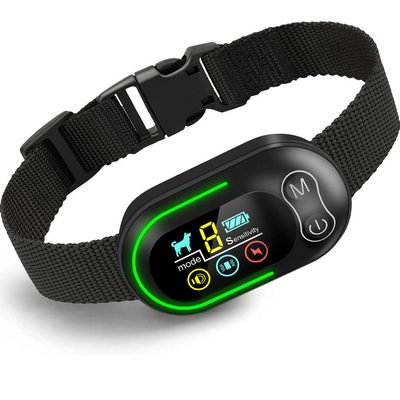 Bark detection 
The Reedog S2 anti-bark collar has adjustable bark sensitivity in five levels. If you set the bark sensitivity to high, the collar will correct the dog when it barks softly. So you can determine for yourself what barking volume is already too loud. The barking is detected by a built-in microphone in the collar, which prevents the device from being triggered by barking or noise from other dogs.

Type of correction  
The Patpet S2 anti-bark collar has three types of correction with the possibility of combination and intensity adjustment. Setting options: sound only, vibration only, sound + vibration, or sound + vibration + pulse. The range of sensitivity and the optional corrections offer suitable optimal settings for large, medium and smaller dogs.

Collar settings 
The intensity of vibration or electrostatic pulse is available in six adjustable increasing levels, vibration offers three levels. Increasing correction strength, offers different correction frequencies. All functions are controlled very simply by pressing the two corresponding buttons and you can see your settings on the clear backlit display.

Batteries and charging
The Reedog S2 boasts a long battery life. The rechargeable battery lasts up to 15 days on a full charge. Above all, it depends on how often the collar is triggered.

Waterproofing
The Reedog S2 is waterproof with an IPX6 rating and is suitable for outdoor use even in light rain. However, the collar does not have waterproof properties. It cannot withstand immersion and should not be exposed to too heavy and persistent rain! The ideal use of an anti-rain collar is at home or even in the garden in only occasional or normal rain. 

Breed 
Seamlessly provides comfort for medium and larger breeds by providing a corrective option for most dog temperaments. All adjustable features such as detection sensitivity and correction intensity range offer enough correction models for different types of dogs. 

Collar length 
Also included is a sturdy nylon collar that is adjustable and comfortable. Adjustable strap for neck circumference 10 - 60 cm. The unit is easy to put on the collar and the collar already has the optimum width for a smooth breakthrough of the unit.

Weight and dimensions
The anti-bark collar has dimensions of 3.5 cm x 6 cm x 2.5 cm (width, height, depth) and an ergonomic shape. It will make it very easy for the puppies to wear it and get used to it more easily. The collar weighs only 92 g.