30 day
Money Back Guarantee
Reedog Smart Bowl automatic bowl for dogs and cats
Reedog Smart Bowl is a unique modern automatic bowl for dogs and cats with an infrared sensor for automatic opening. When a dog or cat gets close, the bowl automatically opens in 1 second and closes again after your pet has left. The bowl is made of a durable, easy-to-clean material. The device has a clear display with a battery capacity indicator. The Reedog bowl will always provide fresh, sweet-smelling food and clean water.
Main functions:
Modern design

- the bowl is not only very functional, but also perfectly fits into the interior of any home.

Automatic opening

- the infrared sensor provides automatic opening in 1 second, and closing after eating.

For all pets

- the bowl is suitable for cats and dogs of small and medium breeds.

High-quality material

- the bowl is made of ABS plastic, resistant to scratches and dirt. The plastic cover is made of transparent polycarbonate. The built-in feed bowl is made of stainless steel for more comfortable operation.

LCD display

- the display shows the state of charge.

The bowl can hold

- water - 350 ml, feed (both dry and wet) - 160 g.

The battery life

- up to 5 days.

Charging time

- up to 3 hours.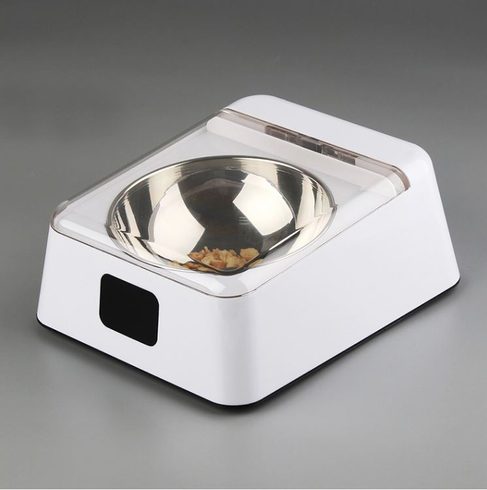 Jak funguje miska Smart Bowl ?
Miska Smart Bowl se otevírá díky zabudovanému infračervenému senzoru. Jakmile se Váš mazlíček přiblíží miska se do 1 sekundy automaticky otevře a nabídne vždy čerstvé a voňavé krmivo, nebo čistotu vodu. Jakmile pes/kočka opustí prostor infračerveného senzoru miska se automaticky uzavře a suché i vlhké krmivo zůstane čerstvé a chráněné před prachem hmyzem.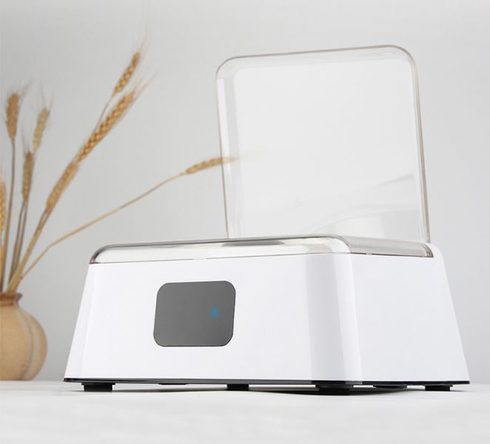 Pro kočky a malé psy!
Miska Reedog Smart Bowl je svojí velikosti vhodná pro kočky a malá nebo střední plemena psů. Velikost misky je 21 x 17 x 9,2 cm a váha je 570 g. Miska je díky malým rozměrům vhodná i na cesty, kdy ji můžete jednoduše zabalit do tašky a poskytnout tak Vašemu chlupáčovi čerstvé i voňavé jídlo po celou dobu Vašeho cestování.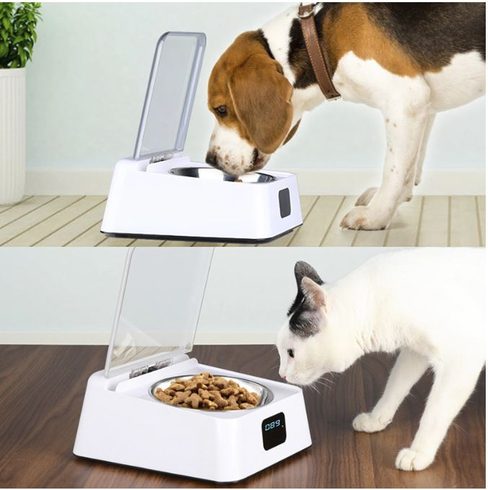 Kvalitní a propracovaný materiál!
Bílá moderní miska je vyrobena z vysoce kvalitních, voděodolných materiálu, které udrží jídlo čerstvé a voňavé. Konstrukce misky je prachotěsná, odolná proti poškrábání a nečistotám. Díky pogumované spodní vrstvě u misky Reedog, je maximálně zamezeno nežádoucímu rozlití vody nebo vysypání granulí. Pogumovaná vrstva drží kovovou misku jako přibitou!  Plastový kryt je z průhledného polykarbonátu a jídlo je pod ním snadno viditelné. Vestavěná miska je z nerezové oceli, která je snadno omyvatelná a pojme 350 ml vody a 160 g krmiva.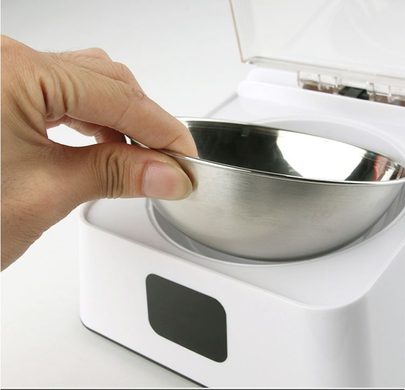 Dlouhá výdrž baterie ! 
Miska disponuje kapacitou baterie 2000 mAh, která vydrží na 3 hodiny plného nabíjení až 5 dní v provozu. Miska se nabíjí pomocí nabíjecího kabelu, který je součástí balení. Přehledný LCD displej s velkými číslicemi ukazuje stav kapacity baterie, kdy je potřeba misku opět dobít.