SureFlap door for dogs are battery-powered door with a microchip that allows entry only to your dog! To enter no need to use the collar. You can use the help tag on a collar or using a microchip that applies vet dog! However, we prefer to use microchips that are the reliable identification, because they can not lose. But if your pet is not or can not be chipped and decide for Snake 'em SureFlap RFID (included in the package - 1 pc), always wear a collar with a buckle fixed, so you should be sure that the mark is lost.
These doors have an LCD display and can be set for up to 32 dogs / cats.
Size: 178 x W 170 mm V
How does the microchip works?
Chip ai applied by veterinarian. Chip implanted in the animal's shoulder, and together with the name and address of the animal it registers with the company Tasso or the German Animal Register. The doctor equipped with a sensor that can read the number of the embedded chip, and thus find the owner of the animal.
By simply pressing a button saves the door SureFlap identification number of your cat. The door will open only small animals, that have activated programmed chip. This prevents entry of other unwanted visitors!
Sensor that is used to read the chip your cat is inside the tunnel - enables chip recognize even at a distance, e.g. if the chip cats shifted. The door opens within a fraction of a second and are locked automatically about 1 second after your cat door passes. Door SureFlap have manual "classic" 4-position lock which, when activated disables the chip from locking operation.
You can set the 4 options according to the needs of cats - the door is always open, always closed, only inward and outward only.
In what doors can be installed SureFlap door?
SureFlap door can easily be installed on all types of doors. If you install a glass door you need to get an additional adapter. Adapter (insert) can also be used in the event that you left the door larger hole over the previous door. Installation of door to door with double-glazing can also. Accurate instruktce for installation are included in the instructions that you get along with the door.
To install the doors with metal plates or metal core, carefully read the installation instructions (instructions included), because the metal can affect the ability to recognize the sensor chip. When properly installed, there is no restriction.
Door size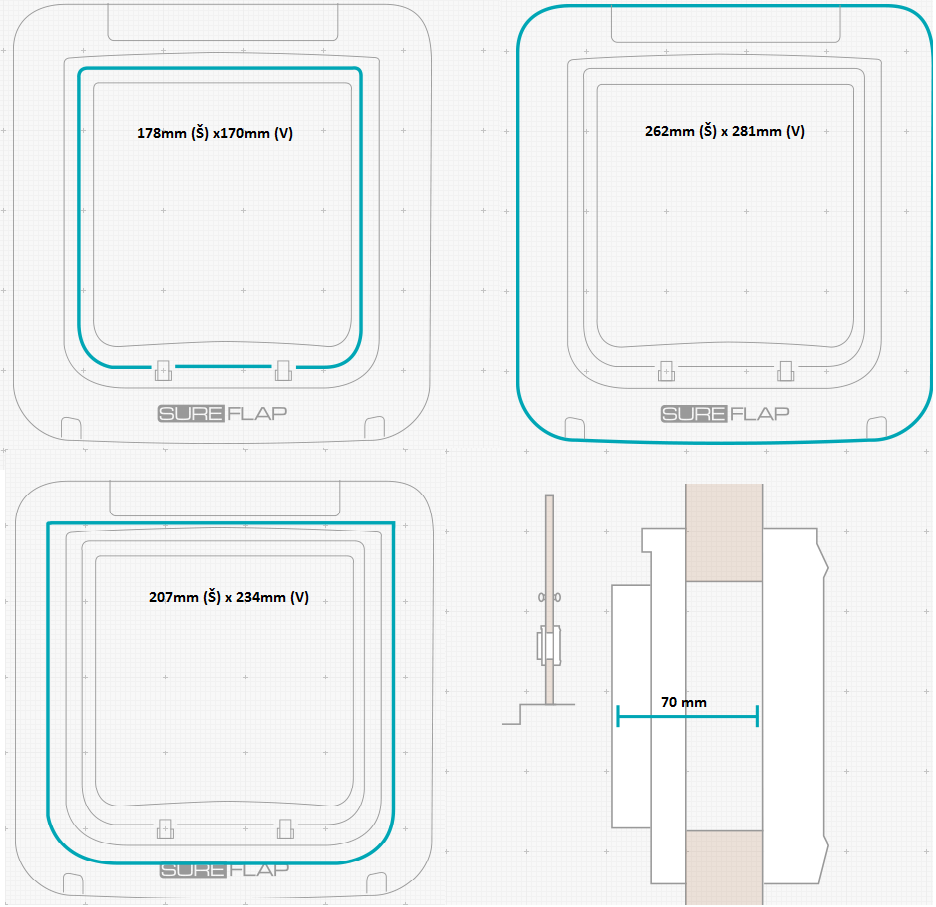 Lets beggin - look at the video of how to use Sureflap doors
Video - Instalation
Video - Glass instalation
Video - Wall instalation