CORONAVIRUS 
We work 100% for you and your pets even in this difficult time 
 We ship orders as usual!
Smart cameras
You say sometimes what does your pet dog or cat when you're not home? Are you missing them after lunchtime, but the home is far away?
Thanks to the smart camera for dogs with him, you can still be in touch. Smart cameras for dogs lets your four-legged friend, not only to see but also to talk to him, give him instruction, encourage him and play with him. See how smart or interactive cameras for dogs and cats we offer!
In stock 1 pcs

13. 07. at Yours
PetCube Bites is the most modern and award-winning smart feed dispenser in the world. This smart home accessory will…
263 €
In stock > 10 pcs

13. 07. at Yours
Petwant has developed a uniqueautomatic feeder for dry food, that will allow you to feed your pet even when you can't…
113 €
In stock > 10 pcs

13. 07. at Yours
Petwant has developed a unique automatic dispenser with a camera that allows you to feed your pet, talk to him, record…
188 €
---
In stock 7 pcs

13. 07. at Yours
This is a revolution in your relationship with your pet! You don't have to keep thinking about your pet anytime you are…
Originally 319 €
244 €
Discount
76 €
Na cestě 1 kusůshipping 3-10 days
Motorola Focus 88 Connect is a portable home Wi-Fi camera® that allows you to monitor from anywhere in the world, using…
139 €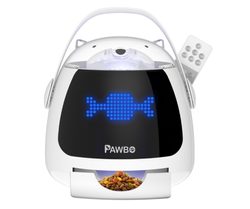 10 days 27. 07. at Yours
Multifunctional dispenser is full treats and fun! Your pet will not be lazy if you left it unattended. Pawbo transform…
188 €
---