30 day
Money Back Guarantee
EBO AIR Pet Camera
The Enabot Pet Camera is a combination smart pet camera and pet entertainment device in one. The Enabot Ebo Air features 1080p HD resolution and a built-in 16GB memory card for capturing pictures and videos in perpetuity. In addition, the Ebo app offers many editing features and social functions to edit or share photos and videos. Specifications can be increased or decreased depending on budget and desired use, with the EBO Air boasting a range of specifications from infrared night vision to laser features and anti-collision technology. The mobility of the camera allows interaction with a cat or dog. It offers several modes (such as laser mode) that can keep your pet entertained while you're away. You can schedule an automatic alarm for regular playtime, or play with your pet manually via the Enabot Ebo Air. Additionally, the EBO camera can recognize faces and pets and track the target. With improved brushless motor wheels, EBO Air moves more quietly, keeping watch over your home at night without disturbing your sweet dreams. You can also remotely control it to go into sleep mode on the EBO APP, it will temporarily stop working until you turn off the sleep mode. The night vision and self charging feature allows you to monitor your home throughout the day.
Main functions
Night vision: the infrared camera automatically activates when the environment becomes dark
AI function: can identify your family or pets
Self-charging: when power is low, the EBO automatically returns to the charging station so you never have to worry about it running out of power
Adaptability: EBO is programmed to adapt its behaviour and voice depending on its environment 
Laser pointer: the laser makes the camera even more interesting for cats
Super quiet: Motorized wheel technology allows the machine to run quietly;
Anti-fall sensor: it can detect all kinds of obstacles in front of you and fall
Remote control: you can control the EBO remotely using the EBO App, for iOS and Android
Two-way communication: microphone, allows two-way communication like a phone call
Video recording: thanks to 24-hour video recording, it tracks every movement 24 hours a day, 7 days a week
Storage: 16 GB memory / expandable 256 GB, new content overwrites previous content
Automatic editing: if EBO AIR has enough material, it can automatically edit videos
EBO SE speed: maximum camera speed is 0.6m/s
Compact size: allows you to go where no other camera can go
Dimensions: 7.6 x 7.6 x 7 cm, weight 223 g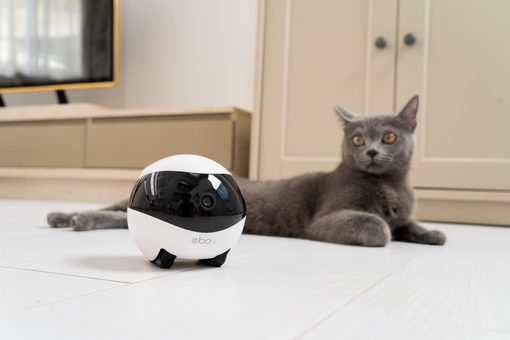 EBO mobile app
There are many editing and social networking features in the app that make it easy to share how awesome your little furries are. There is also a clever video editor that allows you to highlight cats' expressions, add filters, music and create a story. Ebo is equipped with a camera that allows you to take photos and videos and play with your cats through live streaming. It makes it easy to create quirky content about your cats and share it with family and friends. You can also use this feature to check on your pets while you are away. While you may have camera systems for this, sometimes cats just know how to hide from view. With the Ebo app, however, you'll always have your cats under surveillance - whether they're under your bed, desk or chair.
The app offers: English, German, French, Portuguese, Spanish, Italian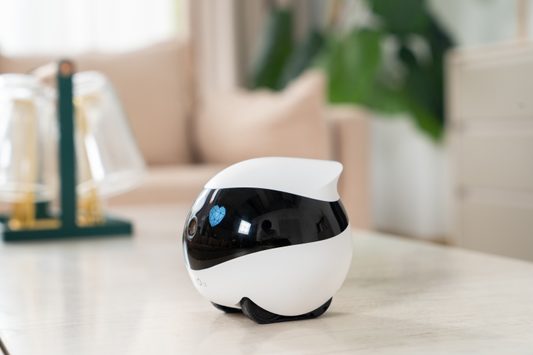 Automatic recharging
Ebo has a built-in collision sensor that allows it to "see" where it's going and automatically change direction. It recognizes obstacles and effectively avoids them. It also performs a 360-degree scan of its surroundings before playing to make sure the area is safe and there is plenty of room to play. Completely wireless and autonomous, Ebo knows when and how to charge itself. So when it runs out of power, Ebo automatically returns to the dock. That means once you take it out of the box and turn it on, you don't have to do or worry about anything else.
Benefits
Handicaps

Recognizes faces
Auto-sensing
Automatic editing
Automatic recharge
Very quiet monitor
Free mobile app
Silicone feather
Infrared night vision
Expandable storage
LED indicators
Removable wheels
Motion detection and fall alert
Remote control with live transmission
Automatic obstacle avoidance

Not waterproof or water resistant