Patpet T200 is a waterproof training collar with a range of 300 m for all breeds of dogs from 8 kg to 90 kg. The collar has sound, vibration and pulse functions, all functions are adjustable and their level can be regulated. By purchasing another receiver, the training for 3 dogs can be extended at the same time. The ergonomically designed transmitter with LED display offers simple operation, you will find a separate button for each function. The transmitter is equipped with a security lock that prevents accidental pressing of a button, eg in a pocket. The package contains short and long electrodes with rubber covers, which makes the collar very gentle and suitable for breeds such as hairless dogs or dogs that are sensitive or prone to rashes. After 2 hours of charging with a magnetic cable, the Patpet T200 collar lasts up to 30 days in standby mode.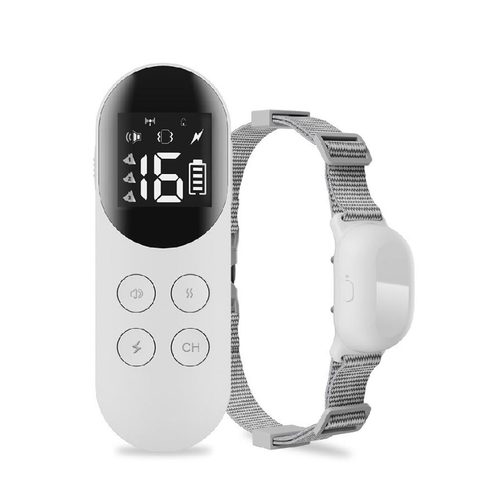 Correction Type:

The Patpet T200 training collar offers 3 types of correction. You direct the dog with sound, vibration or electrostatic impulse, which can be regulated. Intensity levels are adjustable: sound 3 levels, vibration 8 levels and pulse in 16 levels.

Range:

With the Patpet T200 training collar, you can train your dog at a distance of up to 300 meters. This collar is suitable for both amateur and professional dog training.

Battery and charging:

The transmitter and receiver are equipped with a rechargeable battery. The charging speed records 2 hours until fully charged. In standby mode, the receiver stays in operation for 30 days and the transmitter for up to 90 days.

Number of dogs:

With the Patpet T200 electronic training collar, you can see up to 3 dogs at the same time. Just buy two receivers. Then you can easily switch between dogs using the button on the radio.

Display:
Patpet T200 is equipped with a high quality LCD backlit display, making it suitable for night workouts. The display shows indicators for corrective strength, battery level, and an indicator for the selected dog.

Waterproof:
The Patpet T200 dog training collar is only waterproof with the IPX5 protection mark. It can only be used in light rain, but longer stays in the water and diving are not possible. The collar is thus an ideal choice for basic use, but not for training dogs in the water.

Collar lenght:

 The adjustable nylon collar is comfortable for your dog to wear and suitable for almost all types of dogs of different sizes and breeds. Comfortable for neck circumference 20 - 65 cm and width 2 cm. You can also use your own collar.

Weight and dimensions:
 The radio is 4 cm wide, 11.5 cm high, 1.7 cm deep and weighs 43 grams (including the battery). The receiver is 3.5 cm wide, 7 cm high, 2.5 cm deep and weighs 64 grams.