Electronic invisible fence Dogtra EF-3500 is a professional "invisible" fence for dogs. Using the fence, you define a zone for free moving of the dog (an area of up to 16.2 km2). In case of border crossing, the collar on the dog's neck will receive a signal from the base. You need to set one of the 8 levels of correction intensity, the level you choose based on the characteristics of your dog. The fence has low and medium intensity correction, vibration and short pulse. Thanks to the electronic fence Dogtra EF-3500 your dog has a safe area for moving. The fence works for any number of dogs, just buy additional receivers.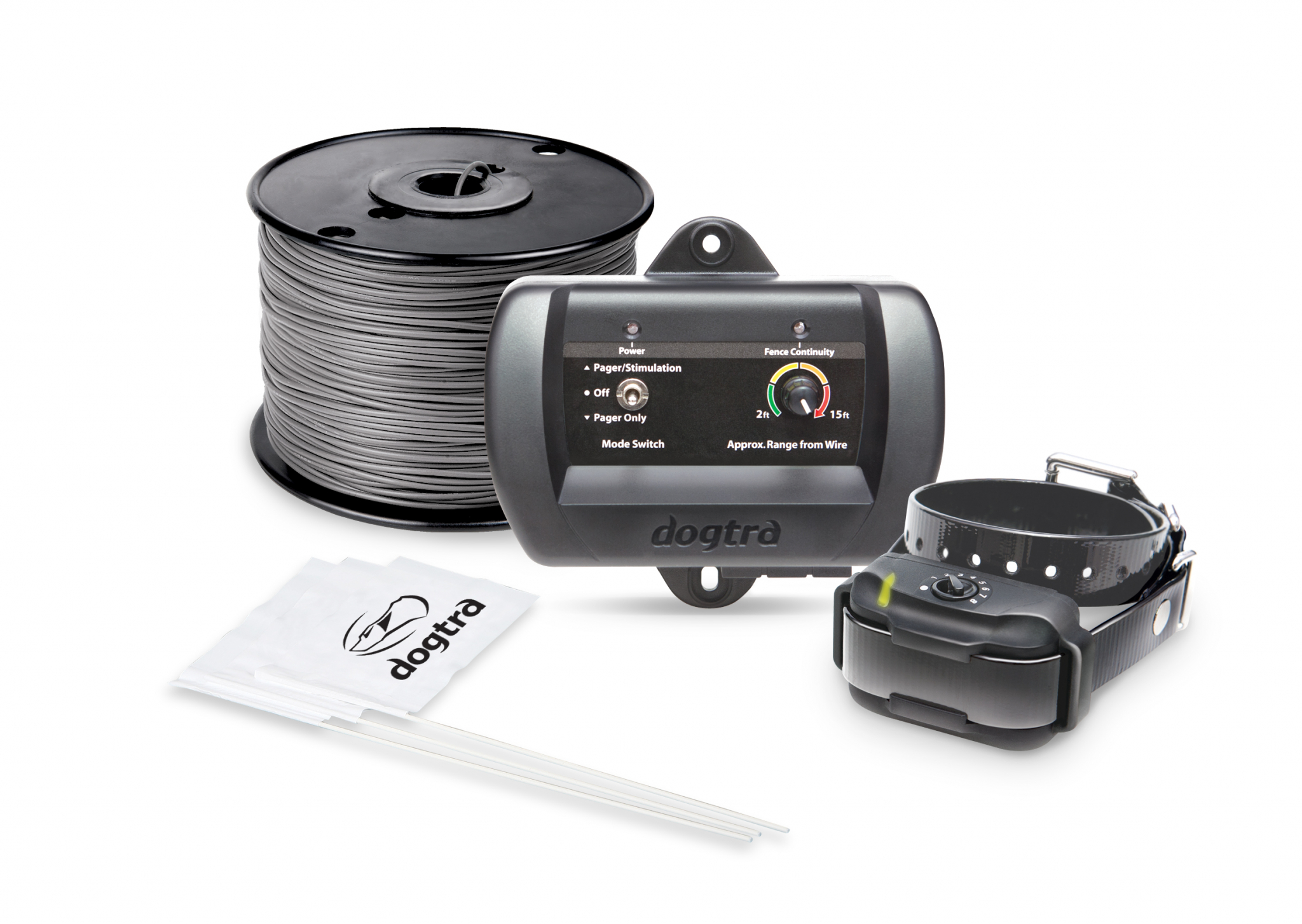 Electronic fence Dogtra EF-3500 has a professional reliable safety technology. The receiver on the dog's collar is completely waterproof, made of extremely durable material. In time your dog will learn to recognize forbidden territory using two types of correction. For warning the Dogra EF-3500 uses vibration or vibration with short-pulse.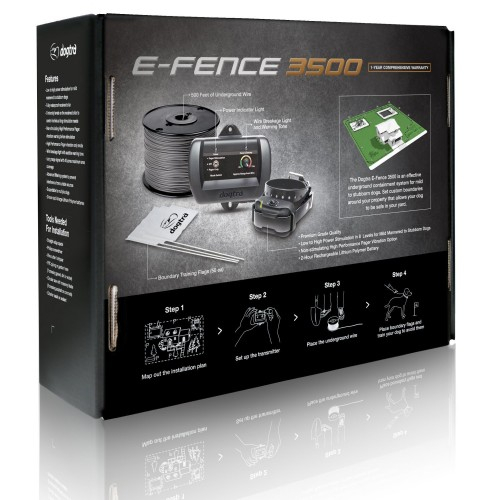 The set includes a wire (150 meters). If necessary, you can buy another and extend the range up to 4000 m. For the functionality of the device, it is not necessary to put the wire under the ground. It is enough to delineate the border on the surface of the ground or fence, and connect the ends of the wire. Mark the territory using the 50 flags. Flags will not only help you, but also make it easier to orient your dog.
After installation and setting, a radio signal will run along the wire. By transmitting the signal, the base communicates with the receiver on the dog's collar. The device has a very simple operation. You can easily set all the parameters according to the individual preferences of your dog. The red indicator will informs you about the safety of the wire.

Zone setting:

The width of the zone is adjusted on the base from 30 cm to 4 m, depending on the type of installation and the length of the wire.

Correction type:

The Dogtra EF-3500 electronic fence has 8 pulse levels. You can easily increase or decrease the pulse power at any time by using the switch on the receiver

Wire:   
The package includes a wire (150 meters length). You can increase the length of the wire up to 4 km.

Battery and charging:

The receiver has a fast charging function. Full charging in  2 hours. The service life of the receiver is up to 1 month in operation.
Waterproof: 

The receiver on the dog's collar is completely waterproof and has excellent strength. You do not need to worry about rain or other bad weather, the receiver can withstand even diving.

Number of dogs:

After buying the right number of collars with receivers, you can use the fence for any number of dogs.

Weight and dimensions:

 Compact, lightweight receiver weighs only 74 g, suitable for small breeds of dogs weighing from 6 kg.
Receiver size: 5.8 cm x 2.8 cm x 3.8 cm (height, width, depth)
Benefits:
high quality
long battery life
8 pulse levels
very durable receiver
Handicaps:
Package content:
Dogtra EF3500 base
receiver with collar
short electrodes
long electrodes
test diode
150 meters wire