Patpet T500 is a waterproof training collar with a range of up to 800 meters, suitable for dogs of all breeds from 8 to 90 kg. The device use sound, vibration, spray and light functions that are adjustable in three levels. With the additional receiver you can traine up to 3 dogs at the same time. Each functions have the separate buttons. The rechargeable receiver and transmitter provide up to 180 days of standby time. The collar has no pulse correction, so it has no electrodes. This makes the collar very gentle and suitable for breeds such as hairless dogs, as well as dogs that are sensitive or prone to rashes. The intense LED light on the dog collar, will keep your pet from getting lost even in the dark. The Patpet T500 dog training collar can be used in light rain, but should not be submerged in water.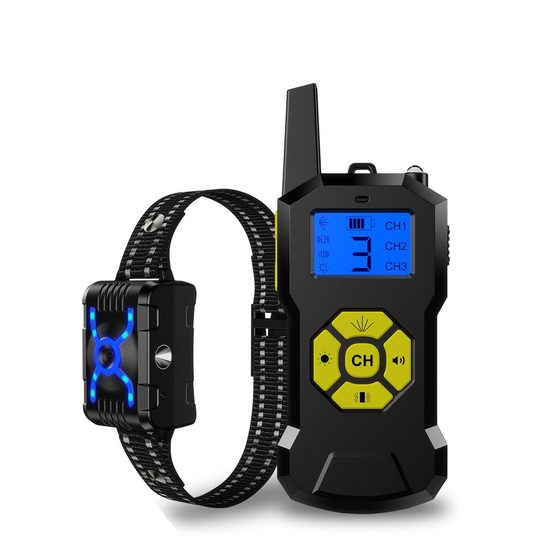 Range
With the Patpet T500 training collar, you can train your dog up to 800 meters away. The collar is suitable for training in a variety of terrains - on the training ground, in the city, and even in the woods.

Correction type
The Patpet T500 has no electrical pulse, for correction uses the spray, vibration and sound functions, which are adjustable at three levels. The collar also has a backlighting function, which is also adjustable. Each function has a separate button, which is important for quick and easy operation of the collar.

Battery and Charging
The Petpet T500 remote control and receiver is equipped with a 500 mAh rechargeable lithium-ion battery. A 2-hour fast charge will provide up to 14 days of battery life.
Waterproof

The Patpet T500 training collar comes with an IPX5 rating and can only be used in light rain. It cannot be submerged for long periods of time. The transmitter is not waterproof. Therefore, the collar is an ideal choice for basic use, but not for training dogs in the water.
Number of dogs

The Patpet T500 can be used to control more than one dog at a same time without losing functionality. With the purchase of an additional collar, you can easily expand the functions of the device to train 3 dogs at once. On the transmitter, you can easily switch between dogs using the middle button labeled CH.

Collar length

Patpet T500 has a very durable and high quality nylon collar. It does not give your pet any discomfort when wearing it and holds well around the neck. It is adjustable up to 72 cm in length.

Weight and dimensions

The transmitter is 5 cm wide, 12.5 cm high (with antenna), 2.5 cm deep, and weighs 64 grams. The receiver is 3.5 cm wide, 6 cm high, 3 cm deep and weighs 86 grams (including battery).